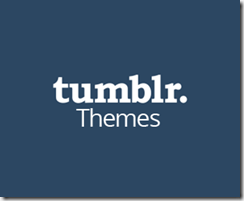 Are you in Need for Best Premium Responsive Tumblr Themes/Templates of 2015, then you are at very right place. As today I am going to present Top 10 Best Tumblr Responsive Themes Ever. As you all knows Tumblr is an Microblogging platform and social networking website owned by Yahoo! Inc. The service allows its users to post multimedia and other content to a short-form blog etc. Thus Tumblr offers you the most stunning and absolutely customizable themes to do your work but not at all free. So without wasting much time, here is the my Top 10 best collection of the most beautiful premium responsive best tumblr themes/templates you can find ever on the net. Have a look and Please share if you Like!
Note– These free tumblr themes have premium and beautiful features like infinite scrolling, single column to multi column, fast loading, responsive design, fully customizable, SEO optimized, clean coding,  Ads ready,  sliders, Portfolio themes and much more.
Also SEE- 10 Best Premium Looking WordPress Templates 2015
Top 10 Premium Blogger Blogspot Templates in 2014
10 Best Premium Responsive Tumblr Themes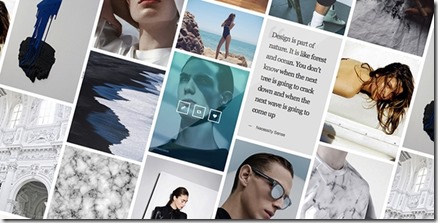 Revolve is a clean tumblr theme built with a header and sidebar version. It's cover options is designed to give your blog a much more personal look. It's wide array of customize options offers adjustable post width/margin, over 20 google fonts and 3 photo hover style.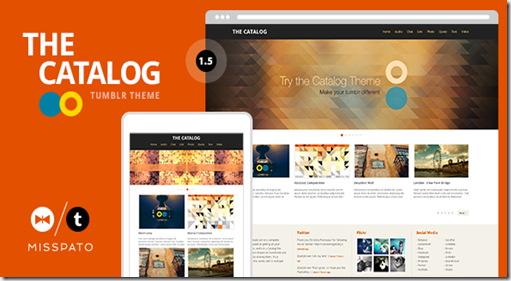 The Catalog is a simple yet very complete Tumblr Theme focused on getting all your photos, text, videos, audio in a catalog-like format. All posts are showed as thumbnails and you can see more by clicking them. It's a responsive theme that works well in different screen sizes.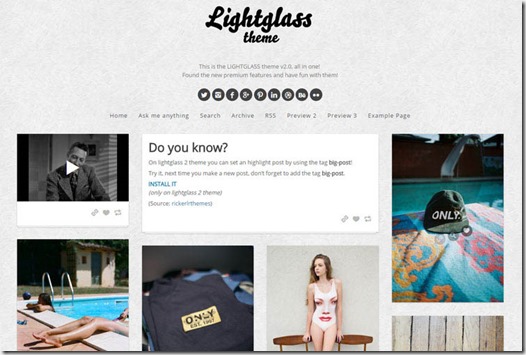 Finally. The wait is over. The all new lightglass tumblr theme is here. Hand crafted using the latest technologies the internet has to offer. Now it has the following options like-
HTML5 & Responsive This theme is made by the latest web technologies and it fits on your smartphone and tablet.
Lightbox image viewer This option allows users to click the preview button and see a bigger version of your image.
Disqus comments Now it is possible to comment posts on permalink page.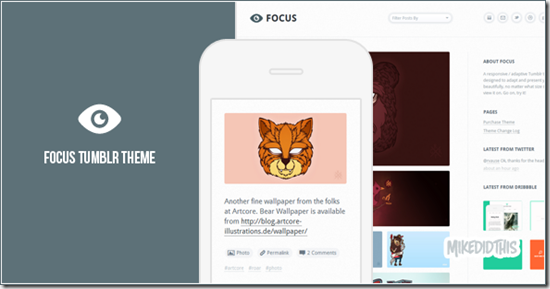 Focus is a minimalistic and adaptive Tumblr theme aimed at presenting your content, to any device, without clutter.
Easy to change colours and background images as well as support for Disqus, Flickr, Twitter, Dribbble and Google Analytics. This theme gives a tailored view to each device (Android, iPhone, iPad, Desktop, etc) that visits it and only serves the content that is required, helping to speed up delivery of your site.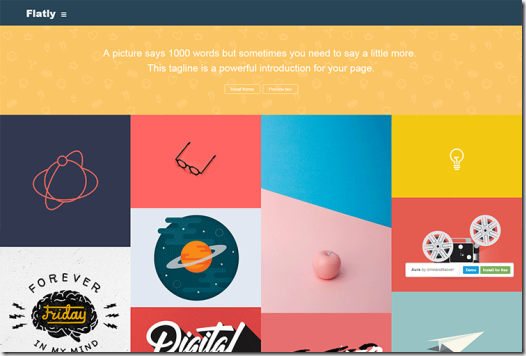 Aura – a versatile and customizable Tumblr theme, perfect suitable for your portfolio. Its responsive design , tagline, call to actions, lightbox are some of the most remarkable characteristics.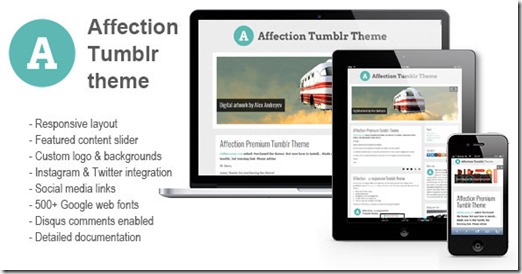 Affection is a feature-rich, responsive Tumblr theme, which starts out with a width of 1040 pixels for desktop computers and scales down nicely to tablet and smartphone resolutions. It is based on Foundation 3, one of the most advanced responsive front-end frameworks available.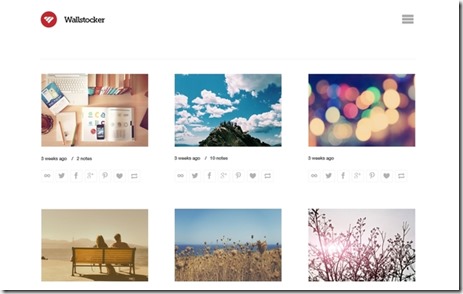 It is a free Tumblr theme, customizable and responsive, it was crafted to offer to your website a much more personal look. It features tag post, infinite scroll, audio and video posts etc.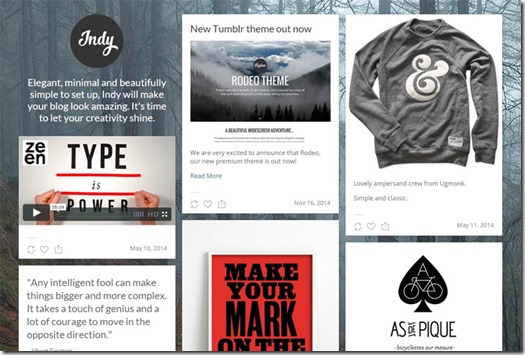 Totally Elegant, minimal and beautifully simple to set up, Indy will make your blog look amazing. It's time to let your creativity shine. It is responsive, infinite scroll , customizable, clean and imposing.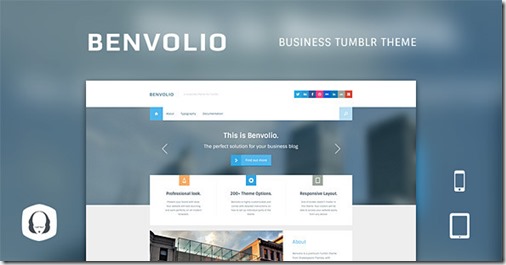 Benvolio is just simple and easy business Tumblr theme that is suitable for all kinds of posts. Highly customizable options and attractive features make it more attractive for the users as well as for their viewers.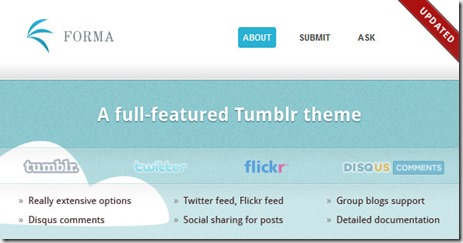 Forma focuses on real content, presented in a refined design. The flawless user experience is the most notable feature of Forma. At the same time the blog author has full control over the theme, thanks to the theme options.
Conclusion:
I hope all you are going to love my above top 10 Collection very much, If you know some other free premium tumblr themes, then let me know in the Comments section. Note- Respect the credits of the themes providers and do not change it. Till then please share the article at Facebook or Google Plus and keep visiting Blogging Ways as always. Thanks!