If you didn't already know, advertising on the web keeps websites like this one alive. In recent years AdBlock adoption has increased 40% year over year and keeps increasing as we speak. For those of you who don't know what an AdBlock is, it's a software that integrates with with your web browser to detect and disable ads on website. This in turn makes websites faster and less cluttered but also strips the website owners from any possible revenue. The estimated loss of revenue lost by online publishers during 2015 was $21.8 billion and its expected to grow 30% next year.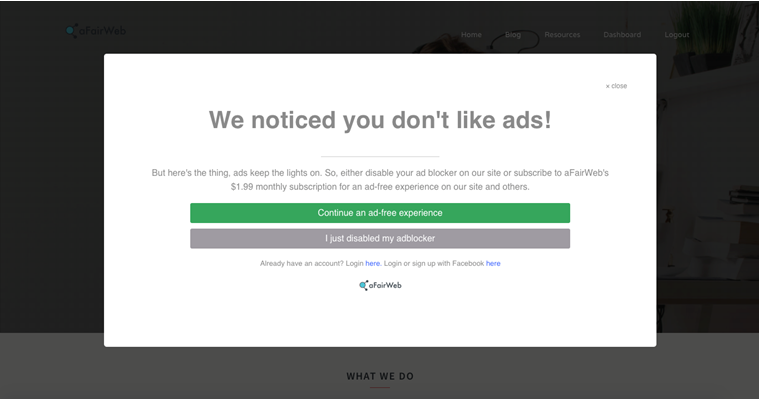 aFairWeb provides an ad-free browsing experience in partnership with online publishers. To enjoy this ad-free environment, users who join aFairWeb pay a monthly fee of $1.99 and can continue using their AdBlock. 90% of the revenue is distributed back to the partner websites but that isn't all they get back. In fact, website also get analytics from ad-block users on their website as well as support from the aFairWeb team. If, however, the user decides to continue without the $1.99 fee he will have to disable AdBlock.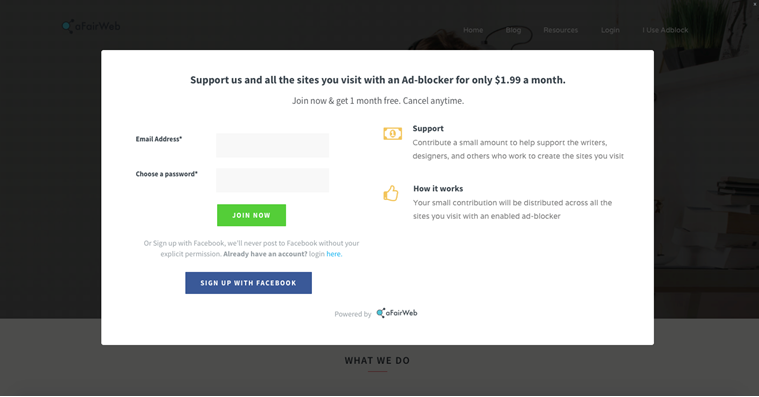 To this end, aFairWeb has built a rigorous AdBlock detection mechanism that scans various elements to ensure 100% of AdBlock extensions are detected and presented the aFairWeb popup informing users about an ad-free experience.
Adding the aFairWeb platform to any website is as simple as heading over to aFairWeb.com, creating a new account and adding the two lines of code to any page you want AdBlock detection. You'll also get analytics that go with your account in order to make better decisions related to your website. In average using aFairWeb creates around $20RPM from AdBlock users.
As soon as you sign up, we start recommending your content to the millions of users who visit our partner sites and this will increase the exposure of your site and help you increase the online traffic.
Ad-block Analytics
Our analytics allows you to monitor the number of ad-block visitors on your sites on a daily basis and hence gives un-precedent insight.  You will also be able to view the revenue you generated from our ad-free experience program via our analytics.
Pricing
As for pricing, their current model offers a free tier for smaller websites with all the features from the paid plan aside from having the pop up branded to your website. But even in that scenario, it's only 20$ to have a customizable pop up with your branding. Their pricing goes all the way to 200$ per month and varies with website traffic.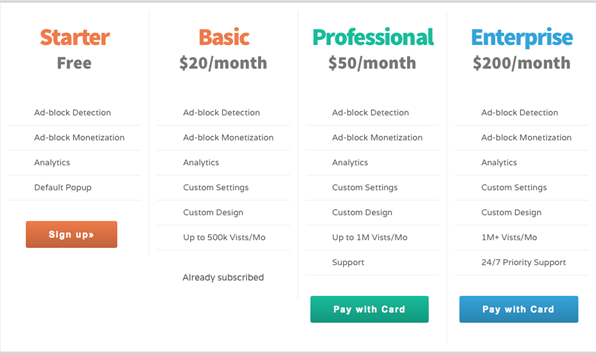 Referral Program
aFairWeb also has a referral program that kicks back 20% of the plan the site signs up with as well as 20% of any commission from the site you referred. So if you end up referring a site that signed up to the 50$ plan and makes 1000$ in revenue, you'll get 10$ from the plan and 20$ from the revenue.
Promo
As a special promotion, any publisher who signs up from bloggingways.net will receive 30% discount on any plan! Just message aFairWeb and mention this review to get the discount!
Thanks.