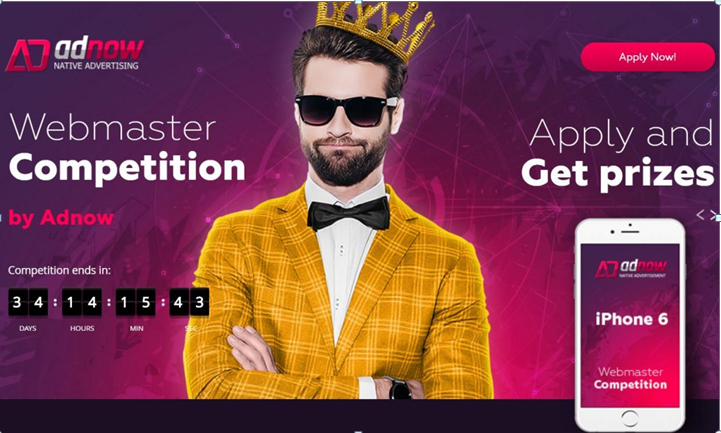 With the development of technology, there have been a lot of modern inventions which have improved our lives. Modern marketing is a sphere where innovations are a must: when ancient methods do not work anymore, it is necessary to find new ones and this is a permanent process. Native ad network Adnow which website is http://adnow.com/ is also a part of the inventions that were initiated by introduction of technology. Adnow is an idea that has given a new life to hybrid native ad format. Adnow came into being in 2014 when a bunch of digital geeks decided to revise the ad format. These individuals were very passionate about digital marketing, RTB, and Big Data. This format has been created in such a way that new users are at complete comfort while using it. Moreover adnow is extremely user-friendly which ensures that users do not look at some other platform for their ads.
There are certain features that you will only find in adnow such as media banners and native ads in one single campaign. This is going to help the companies that search for generating more leads.  As for Adnow terms for publishers you can visit the thread on Digital Point Forum to find out reviews of those who already work with them: https://forums.digitalpoint.com/threads/is-adnow-com-the-best-alternative-to-other-networks.2789046/ . Adnow has proved to be one extremely useful platform for the companies because marketing is an important element when it comes to business. There are a lot of ways to market your product but the most effective way is to use platforms like Adnow which provide some exceptional features.
FEATURES
Some exclusive features have made Adnow an exemplary product. These features have been the reason due to which customers have preferred to choose Adnow as their marketing platform. Here is the list of features that you are going to find with Adnow.
Content Discovery
If you are looking to create an ad for your company then you do not need to worry now because Adnow is going to provide you an exclusive feature that will allow you to find effective content for your ads. In addition to this, you do not need to spend hours searching the right content for your ad because if you have selected Adnow as your advertising partner then there is nothing to worry about. It is the duty of Adnow to provide you the right content.
Effective Advertising
The best way to advertise your product is to choose Adnow as your marketing platform. This is so because Adnow provides you with effective advertising. This is one reason due to which the customers of Adnow prefer to use Adnow as their leading advertising platform. This is so because of its effective advertising and exceptional services.
Product recommendations
Adnow has brought a completely new direction in the field of advertisements. Product recommendations is another exclusive feature that you will not find in any other advertising platform.
WHY ADNOW.COM?
There are several things to like about Adnow. Some of the things that make it a top choice for the companies are listed below.
Adnow provides users with widget based ads
The users are provided with a dedicated account manager.
Adnow ensures that security of the existing users and even the new users.
ADNOW FOR PUBLISHERS AND ADVERTISERS
Publishers
Monetize traffic websites and apps
Adnow has specially designed a section for the publishers which provides the opportunity to generate revenue from your website or mobile app. This is going to help you earn a healthy amount every month with targeted recommendations from our sponsored content marketplace providers.
User acquisition and content promotion
Increasing page views is important when it comes to advertisement. This feature is exclusively introduced for publishers which will allow them to increase page views by 50% with help of automatic promotion of your content with native ads platform.
Advertisers
Self-Serve Native Ads Buying Platform
Global reach and precise targeting
Premium websites and apps with highly engaged audience
Responsive native advertising platform for premium publishers and advertisers
Find more on http://adnow.com/advertisers
HOW TO USE SSP?
SSP stands for sell-side platform which is another exclusive feature of adnow. Adnow is leading the market when it comes to advertising platforms. SSP is another exclusive feature that makes it one hot product in the market. In SSP you will be provided premium traffic that will ensure that your product is advertised to maximum parts of the world. Moreover, there are three kinds of ad formats that you could only find in SSP. Following is the list of the ad formats available in SSP.
Native ads
Native ads are best for selling products and services. They are going to provide you the opportunity to add image and a little bit of text to make your ad look attractive and informative.
Hybrid Ads
Hybrid ads are the best feature of Adnow because they are used to display not only native ads but also the banners This is a feature that is preferred a lot by companies that sell products and services.
Banners
Banners mostly use pictures to advertise things. These are mostly used for content promotion and media campaigns. This is so because banners mostly work with pictures and logos. But when it comes to promotion of product and services it is important that you add some content with pictures but when it comes to campaigns text doesn't play a significant part.
 GET MONEY FROM NEW TREND WITH ADNOW
Adnow is one of the leading advertisement platforms of the modern era. With some exclusive features and incomparable features this platform has ensured that it customers have chosen the right product for marketing their products. It provides a whole lot of options to the user with the ease of being user-friendly and availability. The powerful algorithm running on this particular platform has been developed by an experienced team from RTB and Big Data thus ensuring that you have advertised your product in the perfect way. Companies are extremely conscious about the advertisement of their products thus they prefer to choose a platform that is trustworthy and it has been tried and tested by people. You have a great chance to catch up with the latest online marketing technology – native advertising and RTB – and get profit with Adnow!
Thanks, Please Comment below and share this post as well.
Adnow format was designed to serve ads and make the discovery of new and interesting content very easy and user-friendly. Also this allows to use media banners and native ads in the same campaign, which is very useful for clients and agencies running brand promotion campaigns.