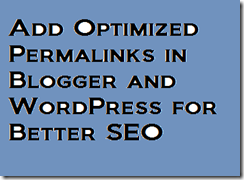 Having good and SEO friendly Permalinks with your blog posts is very must. Thus they are the permanent links to a post page. One of the 2 biggest blogging platform Blogger and WordPress automatically generates a permalink based on the title of your post or something else. Permalinks provide information to the viewer about the kind of content being pointed to. Permalinks create permanent links to your Blog posts which are indexed by search engines such as Google,Yahoo and Bing. Search engines use permalinks to categorize posts. Browsers use permalinks to help navigate to your posts. Its a fact that Whenever you hover over a permalink in your browser you can read the post name in the status bar. Hence today i will share a tutorial on How to add optimized permalinks in Blogger as well as in WordPress for better SEO. Have a look!
How to Add optimized Permalinks in WordPress?
Optimized and SEO friendly Permalink in WordPress- /%category%/%postname%/
To set this permalink in your WordPress blog, just visit WordPress Admin Panel –> Settings -> Permalinks Panel and then under custom structure tab type the above optimized permalink as given below. All Done!
Benefits of this Permalink-
1. SEO friendly
2. Displays post title along with category
3. Nice looking and easy to understand
5. Recommended by majority of the Experts
Matt Cutts view on WordPress Category permalink structures:
How to Add optimized Permalinks in Blogger?
Recently Blogger has announced this feature of adding custom permalinks for their blog posts. Now the issue is How to add optimized permalink in it for better SEO factor. Thus to do it, let me first clear what a good and bad permalink is?
Bad permalink – www.bloggingways.net/2012/06/how-to-add-optimized-and-good-permalinks-in-blogger-for-better-seo
The above permalink contains all rich keywords but its long and will surely get chopped in SERPs into an incomplete sentence that makes no sense. Therefore in order to grab both robots and visitors attention, make it precise and more sensible like this:
Good Permalink – www.bloggingways.net/2012/06/optimized-permalinks-for-blogger
How to change Blogger default Permalinks:
Blogger has default permalinks in their post like this- http://[Blog-post-URL]/YYYY/MM/[Short-version-of-post-title].html, hence to change it and make SEO friendly as given above in Good permalinks, just log into your Blogger in draft dashboard and choose to create a new post. Now In the pane on the right of the post editing page, you will see a new section called "Permalink" which features a "hyperlink" icon to the left. Click on this title to reveal the menu. By default, the Permalink choice will be set to "Automatic URL" – this is the URL structure based on the post title of your post. Now check "Custom URL" option and type your optimized permalinks as you learned above.
Extra tip- Always use dashes (-) to break words instead of underscores (_) as underscores are not SEO friendly.
Matt Cutts view on Blogger Permalinks:
Watch the video below to learn some tips from Google webspam head, Matt Cutts:
That's all! Enjoy. I hope now you will have better permalinks than ever for better SEO etc. Stay tuned for more latest SEO updates like this on our blog. Good Bye and Thanks. Also please share this article with your friends in circle.