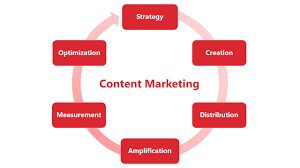 According to the Content Marketing Institute, content marketing can be defined as a technique that involves creation and distribution of information that is relevant and valuable to the target audience hence it has the ability to create attraction. Content can, therefore, referred to as a platform that allows interaction between the producers and consumers of a product. Content strategy is applied in various areas such as media products, offering technical support to businesses, customer services, marketing and much more. On the other hand, content marketing has its main basis on strategy and implementation.
   The work of content marketing has been evolving over a period of time from traditional structures that involved pushing to access customers to the modern ways which enable connection of organizations on meaningful stage with content that is useful and relevant. The goal of content marketing is to develop loyalty to customers and also persuade them towards goal conversion. It engages the audience on emotional levels to inform and increase the target customers who have varied needs and interests. It, therefore, implies that the specific goal or result for content marketing is to build an audience that builds a business as a consequence.
Why do you need a content marketing strategy?
Content marketing is significantly effective to the business and can be crucial when building trust that is necessary for conversions. You need content marketing to ensure cohesiveness since the content is mostly spread out in the cases where one involves distribution with multiple channels. It is important in establishing a strong brand identity since the market is flooded with other competitors. Besides, it is necessary for increasing the productivity of content marketing since one has the plan clearly outlining the quantity of content to produce, the platforms and time to post. It is easier to analyze patterns of progress when you have a strategy for content marketing hence determine the success and failure points. The strategy helps to maximize returns on investments since there is increased productivity with reduced motion in terms of time and money.  Therefore, a unique strategy helps in guiding the plan of content marketing saving time and other inconveniences.
7 Tips for  a Content Marketing Strategy
Implement a rule of SMART goals
Sometimes you might struggle so much but the results do not match the hard work. It is, therefore, necessary to use the rule of SMART goals in building the strategy. The goals should be Specific and clear in terms of the thing to accomplish, the reason, people involved, place or location and the resources to use. The goal should be Measurable which enables one to track the progress. The goal should be Achievable and realistic which opens the mind to opportunities that you may have overlooked. Besides, the goal should be relevant in strategy building; it enables one to be in control themselves. Finally, the goal needs to have Time limits which facilitate speed of the work. You, therefore, need to have clear knowledge of long term and short term goals.
The two-way research: Trends and competitors
Measuring the impact of content marketing on the business is very crucial rather than just doing research, writing, and publishing. It is, therefore, necessary to determine the goals of content marketing such as the need to increase awareness of the brand through creating attention to the target population and the need to drive more views to your website or blog who will be looking for best values. Another goal can be to generate leads to sales on your website or blog. The most relevant strategy is lead generation content that requires viewers to fill a form in order to get access to the information and products such as e-books and checklists. As you develop, you can have a goal of converting leads into customers who can generate revenue for the business. Finally, one can focus on retaining the customers and driving up the sales.
Competitive research is necessary since it enables the business to develop and continue evolving through offering new services to customers, a better understanding of outside better performance and also getting new customer opportunities. Besides, it is necessary for getting the exact content required in the market. There are different categories of competitive research depending on what they offer. A competitive research enables one to get alerts in case of new opportunities. It is also necessary to utilize relevant tools of online advertising hence increasing customer base. Furthermore, a competitive research involves content research which enables one to build to reach specific traffic levels. Other important tools are Google operators, Chrome extensions, and all in-line solutions.
It is possible to optimize for the branded keywords of competitors in order to take over the market. This involves strategic approach through investigating why customers choose a certain product over the other. Another approach is self-hosted content which helps one to get the right words and phrases of use in the creation of content. Besides, the third-party hosted content can help the business in marketing strategy. This involves paying a professional who offers best services in comparison to other business. Generally, it is necessary to give customers the reason to come back to get the product. It is possible to be above the competitors by using their top pages data. The top pages data can be obtained by links, social shares, estimation of search traffic, the number of ranking keywords and also determining the total traffic. The owner of the business, therefore, has a role to play in terms of finding out why the competitors are performing better and also the reason for the low performance of their content.
Brand story as a part of your content marketing
You need an engaging story that will keep the audience fully attentive through inspiration and motivation. An engaging story will be different from another regular one since it arouses the attention of the audience. One should, therefore, focalize the message that truly gets to the attention of the audience. It is also important to project your visions which make the story. In addition, it can be necessary to show the struggles that you have undergone to reach the level of success. In your story, continuity should be clear to enable the audience to flow with you. Another important factor in developing a brand story is to share personal experiences which pull the audience into your life. Finally, the use of metaphorical language creates better understanding from the audience. A good brand story helps to build trust and create engaging content.
Define metrics
Content metrics are tools that answer fundamental questions about content and also provide the general performance of the strategy under use. Various metrics measure the strategy content such as the consumption metrics which offers information on the number of content consumers, sharing metrics that shows the success of content convincing people to share, lead generation metrics that measures the financial capability of content marketing and finally sales metrics that enables the content creator to determine how often consumers of content turn into customers.
Decide which types of content will work best for you
There are about 15 types of content that can drive traffic to your blog or website. For instance, infographics enable the content creator to present information in a visual and more attractive way. Customers admire it hence ready to view and share widely. We also have the use of memes which are easy to make and spreads very fast. Another important type is the use of videos which communicates a long message in short form and in a memorable way. Besides, we have opinion post also called rant which is more expressive and communicates messages in strong ways as compared to usual blog posts. Additionally, the use of lists creates an appeal to continue reading since it is simple.
Consider different stages of the customer journey
There are various tips that can boost the content marketing strategy in a competitive environment. Examples include the creation of relevant content for each level of the customer journey, understanding the audience and goal of the content which solves problems of consumers. Besides, the format of the content should be flexible to changes in order to remain fresh. The format should educate the audience, organize the content in the list, offer explanations and survey the needs of readers.
Identify possible challenges
Possible challenges in content strategies include getting engagement from the audience since there is a high competition where increased number of marketers are using content strategies. Another challenge is developing ideas and concepts that are exceptional in order to influence the behavior of the audience. In addition, we have a challenge of developing visual content accompanied with powerful ideas and words. Another challenge is the personalization of content when the consumers need relevant information.
Conclusion
Content marketing is necessary to both beginners and even those who have been in business for a long time. This is because the competition is always evolving and strategies changing over a period of time. Having a content marketing strategy that is solid and smart will definitely put you on top of the competition. It is necessary for planning for the cost-effective running of the business online and also convenience to consumers. Marketers and bloggers should adhere to all necessary steps required in the development of the content strategy to avoid challenges that come with it.
BIO
Amanda Brown is a content creator at WillbeCoded with over 3 years of experience in marketing. Amanda believes that content is king if it is well researched and well written.  Amanda also has a passion for blogging and often shares articles about new tips and tools.