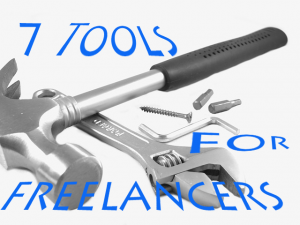 You probably wanted to be your own boss and to enjoy the convenience of working from home which turns you to freelancing, which absolutely seems to be very easy to do. But we often forget that freelancing is a business and the completion out there is quite high. For a new freelancer it is not an easy task to get clients right from the day first, but if you have decided to consider freelancing as an important business then the chances of your success is much higher.
So are you new to freelancing or a blogger who want to try out freelancing and still struggling to get work and don't know how to organize things? In freelancing everything can become messy and jumbled if you don't have the right tools in your hand.
So in this post we have compiled the list of 7 essential tools which will grow your freelancing business and profile and will keep you stand first in the long run race.
All these tools are free to use and hence you wouldn't need to invest your hard earned money from the first day of freelancing career, however if you start earning from freelancing, you can invest money to grow your business in much greater aspect.
7 Essential Tools You Need As a New Freelancer
#1: PayPal:
PayPal is one of the world most popular services to send and receive money around the globe; therefore whenever you work as a freelancer you would be mostly paid by PayPal only. You can easily create a free account with PayPal and start receiving money without making any other efforts. You can also install the PayPal official application that helps you to manage your account from your Smartphone.
#2: Drop Box- Cloud Storage:
As a freelancer you will be working on number of important projects and files. Your computer hard drive can't provide the guarantee to save these files forever. So in order to keep your all files safe and to access it anywhere cloud storage is the only option.
For this DropBox is best option available which allows users to bring their files virtually anywhere and keep safe forever. Along with this you would be able to share your projects and documents with other people and your clients easily. DropBox gives you enough space to backup and store your all files for free, however if you need more space in future you can easily upgrade to their premium plans.
#3: Hootsuite – Manage your Social Media:
Social media plays an important role to reach to new clients and maintain sustainable relation with your existing clients. So to manage all your social media profile could be more time consuming. Thanks to Hootsuite which lets you connect every major social network under a single account by using which you can send status, comments, and messages to multiple social media profiles with single click.
More interesting part which Hootsuit provide is its ability to schedule your status and post them at a scheduled date and time. Their free plan is more than enough for beginner and you can always try it out.
Create Free Hootsuit Account Now
#4: Rescue Time
Managing your time is the greatest hurdle that everybody faces and when your work is mostly online the chances that you spent your time on non-productive things is high. Therefore Rescue Time let you track your time which you spent online and gives you report according to your productiveness. So if you just got addicted to social media then rescue time will keep telling you that how much of your time is getting in vain. Again this tool is completely free to use and it will not take a minute to install a Google chrome extension on your PC.
#5: Mint
Mint is great tool to keep record of your financial accounts its management. By using Mint you can link your bank accounts and track the earnings and money transaction. This tool is helpful to increase saving and increase budget. Setting your goals with full security and other features make it best tool for freelancer. All this can be done for absolutely free of cost and you can even download the application for your Smartphone.
#6: Google Tasks
As a freelancer, your most of work will be on deadline basis and your client can ask you to meet the required tasks in specific deadline. Most of your communication will happen through emails and when there is some important mail you can add your email to Google task and then assign the required date according to the client requirement. This way you will never forget to do an important task which can harm your business and freelancing career otherwise.
#7: Join.Me
Client satisfaction should be first most priority when considering any business and then turning those clients into regular and repeating clients is the successful formula of any business. Join.me helps you to attain this by connecting you with your clients or customer and show them what's on your screen even if the client don't have an account. So in some cases your client want insights and any inquiry then this tool is best to show them the data and clear their doubt.
Sign Up for Join.me
Now what ? To Make money from freelancing Read:
Top Freelancing Websites to Make Money From Home
Now it's your turn:
Whether you are a freelancer write or a freelancer web designer, these were the tools that one must have in order to grow client list and turn your freelancing career into successful business. If you are new to freelancing then you must not spent your bucks in purchasing expensive premium services, rather you must use these above tools which are absolutely free of cost.
However if you are well established freelancer then you may opt to list out the premium tools and services that gives the good ROI and grow your business further.
Also SEE- How to Boost Your Freelance Earnings in 2015?
Now I want to hear from your side. What tools are you using in your freelancing? Feel free to suggest some other tools that you think should be listed in above list. Which of the above tools listed is your favorite tool? I am waiting for your responses in the comments below. Thanks for stopping by and don't forget to share this post with your friends.