Whether you are on the internet for some serious business or fun and entertainment, it's least likely that you haven't heard about WordPress after spending some time here. What's the reason, you might wonder? Well, there are plenty of reasons actually, but one of the most significant among them is none other than WordPress Plugins, which make it so easy and interesting for millions and millions of people on  the internet to do whatever they want on WordPress sites. In fact, you would be amazed to know these stats about WordPress plugins, as shared by WORDPRESS.ORG:

That's not all; it's also the world's most popular blogging platform. According to WordPress.com:

Nowadays, many blogs covering reviews on useful products and services have rose to fame, and quite rightly so. Masses are attracted to such blogs because these help them make better and informed decisions on whether or not to purchase a product after going through the reviews other people have made about it.
These blogs rely on various types of WordPress review plugins and themes, which also serve to help people transform a blog into the fully functional review website. They not only assist readers in rating your WordPress posts but also help blog owners to monetize their blogs.
With so many of WordPress plugins, it becomes quite tricky to pick what might work best for you. That's why I am here with this list of 7 WordPress review plugins to help you easily manage things related to reviews on your WordPress sites through 2016. So, here you go: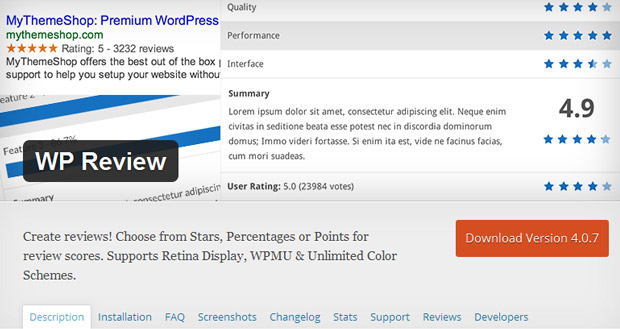 WP Review is right on top of review plugins on WordPress. It boasts of 80,000+ active downloads backed up with a strong 3.8 out of 5 stars rating, which clearly reflects its popularity among its users.
If you want to have a review plugin for your WordPress site, which is easy yet powerful, enabling people to review content conveniently but without affecting the speed of the site, WP Review is surely the best bet for you.
If you are into blogging, there is a high probability that you often review/rank various products, services, recipes, tools or other such content on your website. This review plugin offers you a highly customizable yet lightweight way for creating rich and interesting reviews using percentage, stars or point rating.
Moreover, it also supports translations along with Google rich snippets, WPMU and a wide range of colors.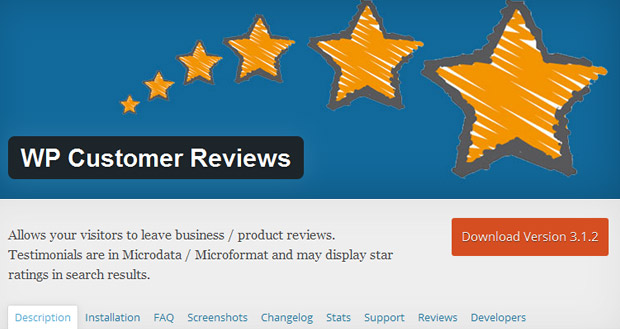 WP Customer Reviews is another of the most popular review plugins on WordPress, which enjoys over 40,000 active downloads and a superb credit rating of 4.5 stars out of 5.
With this review plugin, you can empower your customers and visitors to leave reviews and testimonials about the products and services showcased on your website. Reviews are enabled in Microformat (hReview) in this plugin to ease things out for you.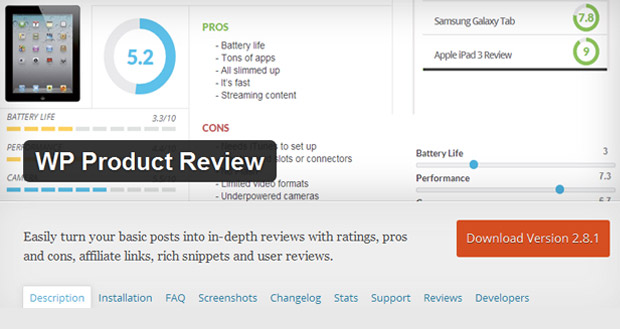 WP Product Review follows WP Customer Reviews in popularity, having more than 40,000 active downloads under its belt with a handsome 4 out of 5 stars ranking.
This review plugin is designed to help you better interact with your visitors and customers through improved commenting. It enables you to showcase your reviews in a much easy-to-read manner. You can even generate money, as you can add a "Buy Now" button within your post. It also supports rich snippets.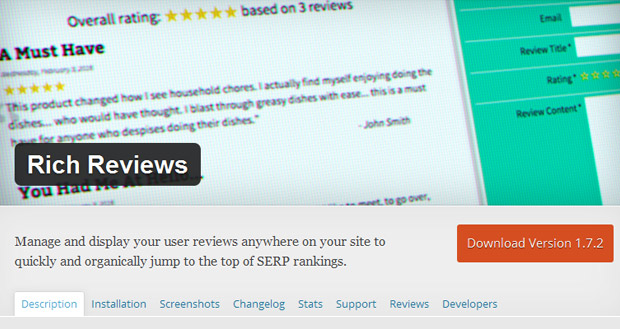 This review plugin has more than 9,000 active downloads by WordPress users and enjoys a solid 4.2 out of 5 stars rating.
With Rich Reviews plugin, you can conveniently grab hold of reviews that are relevant to your products/services, website or individual product pages and display them anywhere you want on your WordPress site.
These rating reviews, also referred as rich snippets are considered really helpful in pushing your website up to the top in SERP rankings.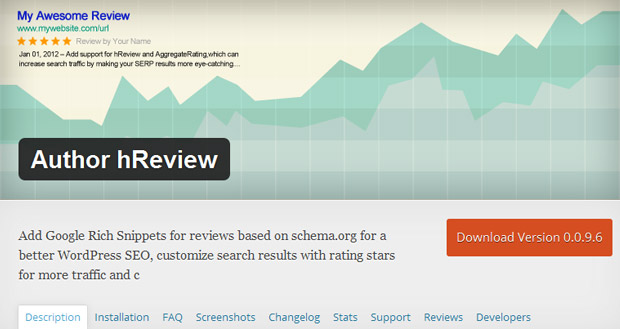 4.2 out of 5 stars rating given to Author hReview by more than 5,000 active users of WordPress make it a wonderful review plugin for WordPress sites.
What differentiates it from its peers is that it only supports editorial rating submissions, i.e. editor/author ratings, which means only the author/editor can rank and review using it, not involving site visitors in the process.
If you are wondering what's so special about this review plugin, it boasts of 4.7 out of 5 stars rating its 300+ active users award it. Why? Because it works that well, helping WordPress sites make the best of reviews with its hassle free but powerful features; you get points, stars or percentage rating in addition to unlimited color combos and other options with WordPress Review Bank.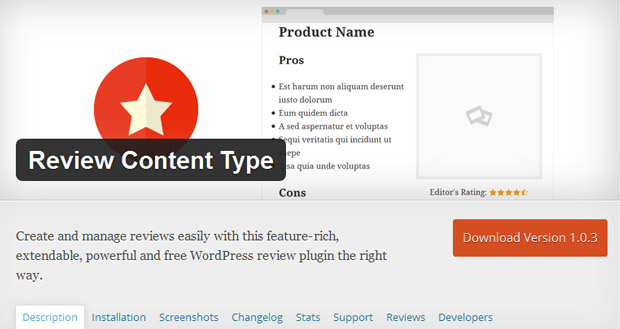 5 out of 5 stars rating is no joke, even if it comes from just over a 100 active users as in the case of Review Content Type plugin. This has become possible because it offers a host of rich and extensive features to help you create a presentable review website without much hassle.
Conclusion
WordPress is all about plugins and contemporary online business is much about user reviews and feedback, which is what these review plugins will help you achieve. And don't forget to share with us in the comment section below how did you find the plugins you use from this list.
Author Bio
Khawar Zaman is a pro when it comes to ecommerce consultancy. Backed up with a decade of relevant experience, nowadays he is busy nurturing his tech-startup, Technorian, as a cofounder. It offers Magento, WooCommerce and WordPress support services alongside dedicated development services.