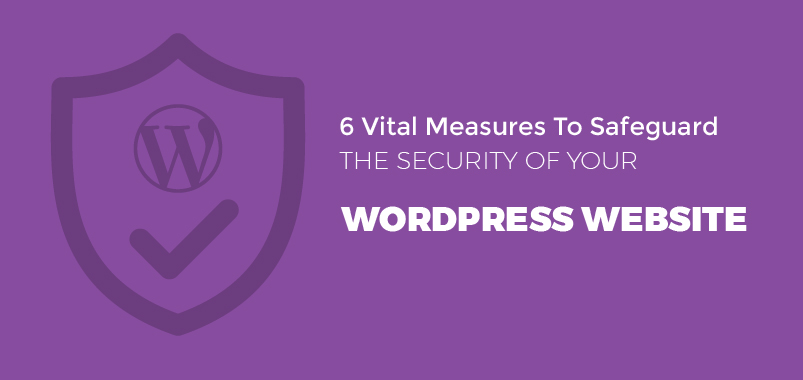 Today, WordPress has become a popular platform for website development all around the world. Just like websites built on other platforms may be susceptible to external aggression such as hacking, WordPress websites could also face security risks.
However, administering the best-in-class security measures for your WordPress website could be a potential hassle if you are not up to date with the threats that the internet poses. Your WordPress website could also face threats from unknown hackers and other internet criminals.
Therefore, it is best to secure your website from unknown threats, knowing fully well that WordPress websites nowadays face heightened threats and are amongst the most targeted by hackers. In fact, security needs to be inbuilt into your WordPress website design with the tips we are just going to discuss in this article. Many a WordPress design company has suffered the fate of infamy because of their reluctance to build security into their design.
6 Vital Tips to Safeguard The Security of Your WordPress Website
SSL connections
If you are planning a website integrated with an e-commerce store, then the best way forward is to go for an SSL connection, which ensures that the data which is being exchanged between your website and the system at the other end is encrypted. This ensures that private customer information is protected during transmission. If this does not happen, customers could discover that their sensitive data such a login information and personal details have been stolen. In order to maintain the trust and confidence of the customers in your website, you could show a padlock symbol in their browser whenever they are visiting your website.
Plugins
It is now common knowledge that WordPress websites could be easily hacked not because it is easy to do so, but due to lack of proper care by their owners. WordPress websites could be easily hacked if they utilize unsafe and out of date plugins. Therefore, you should only install plugins from trusted sources. All out of date plugins should be treated as potentially unsafe, hence they should be immediately uninstalled and discarded. Out of the sheer number of plugins (over 50,000) available on the WordPress plugins store, many are outdated, poorly developed, and unsupported.
Blacklisting malicious users
Over a period of time, you will be plagued with harmful users, who spam your website or pose even more serious threats. They need to be blacklisted. You can avail of some of the easily available methods such as domain blocking and email blocking to prevent malicious users from using or registering on your website.
Two factor authentication
This is an extremely crucial aspect of WordPress website security. Today, many WordPress websites are subjected to brute force techniques to identify their login credentials and passwords. However, with the 2 factor authentication, it becomes necessary for users to go through a two step process for login. This first includes providing a username/password combination followed by, for example, a one-time user code or OTP, that can be delivered only to the genuine user of the website. This method helps halt unwanted and undesirable users from tinkering with the website. Alternatively, a verification link can be sent to an email, which is accessible only by the genuine/registered user of the website.
Regular Backup
No website is 100% secure despite the most foolproof security means available today. The reasons could range from sheer bad luck, accidents during website administration and other errors, or even extreme carelessness. To overcome this, you will need to backup your website regularly, so that you create a set of restore points. You can use these to revert your website to a previous version in the unfortunate event of your website being compromised.
File Sharing
If you operate a file sharing service, you should be extra pre-cautious that users are not able to transfer, upload, or download malicious files using your service. Today, the internet is overflowing with viruses hence these can be sent either intentionally or accidentally. Make sure that such activities are monitored and illegal file sharing activity is not permitted via your website.
Closing thoughts
Its always good to play safe. However, in the world of the internet, there are threats lurking around every nook and corner. To avoid a potential disaster, you will need to implement these website security tips mentioned in the aforementioned paragraphs. Today's world is truly unsure, so why leave your website unsecured? Good Luck!
Author Bio:
Mr. Kishan Kanani is a proficient Web Developer working at NCode Technologies, Inc. who have passion to explore different CMSs. He often likes to do research on new CMS technologies. He loves to share tips and tricks on Magento, WordPress, Shopify and other open source CMS.