There is barely anything that hasn't been touched by technology, ranging from the craziest self-driving cars to the something as basic as the way we access information. People now seldom use newspapers and magazines to access information and daily updates. This has been further accentuated by the advent of mobile devices like smartphones and tablets that make reading news and other information even easier. So, it helps the cause if you are running an offline newspaper and want to enhance your online presence or your entire focus is on delivering information online.
There are however some important things that you need to look for in a NewsPaper WordPress Theme, the most important being responsiveness. By responsiveness, we mean that with the help of such theme your website should be capable of adapting to any device like smartphones and tablets screen size and look equally brilliant on all of them. In this post, we have thus collected 55 Best Responsive NewsPaper WordPress themes one of which you will sure find great enough to power your news and magazine website.
55 Best Responsive NewsPaper WordPress Themes 2017-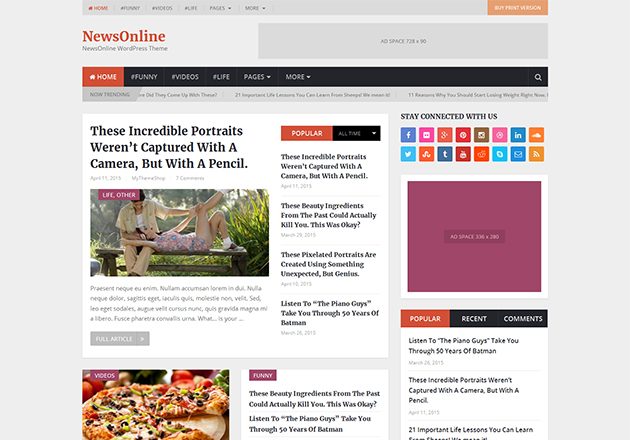 With a glossy feel, beautiful and professional design, this theme is perfect for news sites and online magazines. If you are looking forward to building sites that display lots of information in a way that is presentable and attractive and at the same time builds authority, then NewsOnline is the one for you.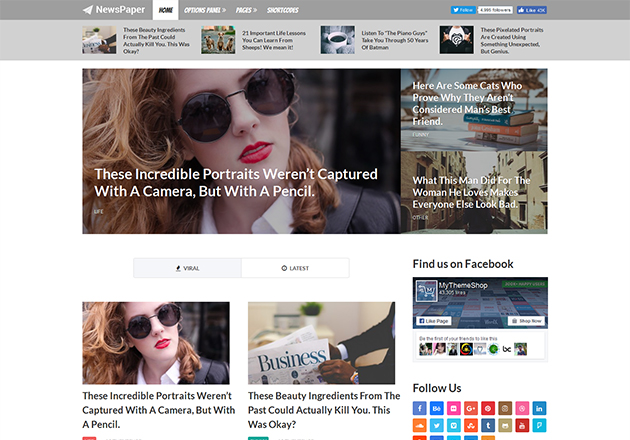 Content rich sites demand effective information management and subtle design, and that is exactly what NewsPaper offers. The theme has a trending and latest sort features on top of media-rich features, multiple post layouts and everything that will allow you to make a successful newspaper website.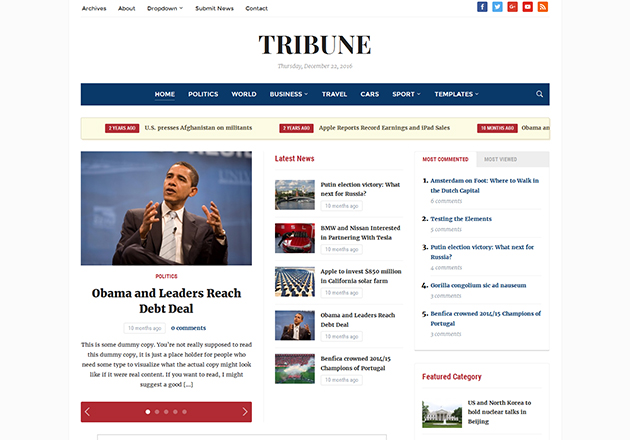 With this theme, you can beautifully highlight your featured posts with the featured area at the top and the carousel at the bottom. That, along with the theme's great elegant display and featured categories makes it a great one for your budding news website.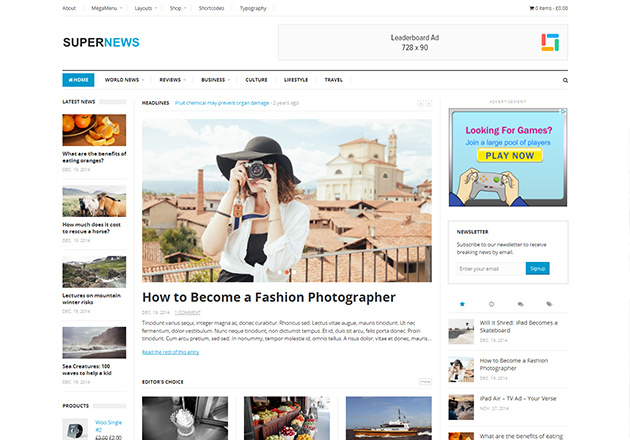 This theme is ready for any project that you wish to embark on, and that includes newspaper websites. The full-width layout of the theme is ideal for providing your audience with a range of options on where to go next and thus keeps them happily immersed in your website for hours.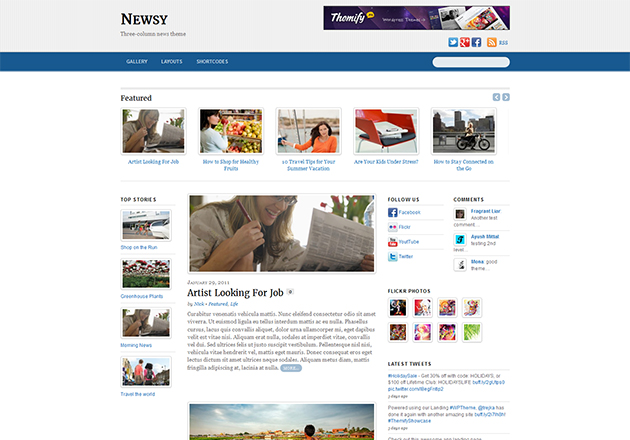 The three column design of this theme makes content that much more manageable and then the ad options makes it lucrative. Other great feature of the theme includes eleven different layout options which include the settings to display a column or list layout with two sidebar/one sidebar or no sidebar at all. The cherry on top is that the right-hand side wide sidebar can be divided into two half-columns that allow for more content to be displayed.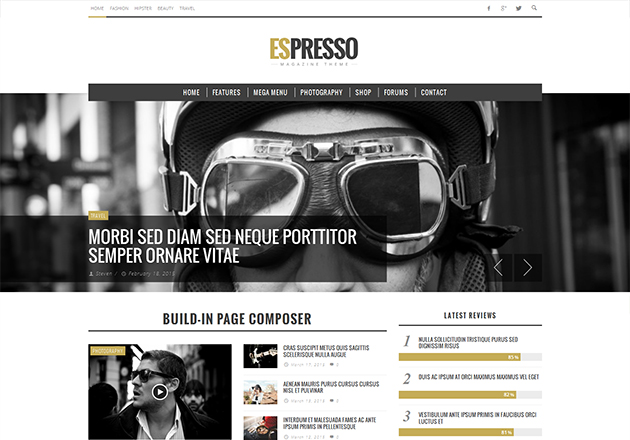 Wake up your customers with the bold and bright elements of this theme just like espresso. The theme has an overall modern, clean, retina ready and responsive design that is suitable for blogs, newspapers, magazines or review sites.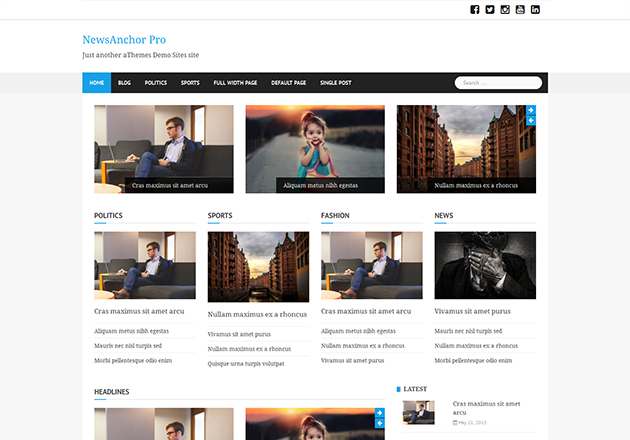 An extremely easy to use magazine theme that is great for online news sites who want to have a fresh and modern outlook. Other unique features of this theme include its pre-built widgets, colour options and easy access to over 650 fonts.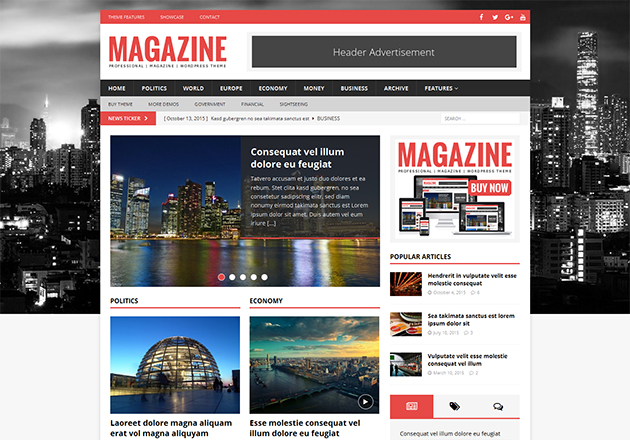 A perfect solution for online magazines, news websites, professional blogs and everything in between. You will be able to present your content with this in a way that will attract more visitors and then keep them coming back for more.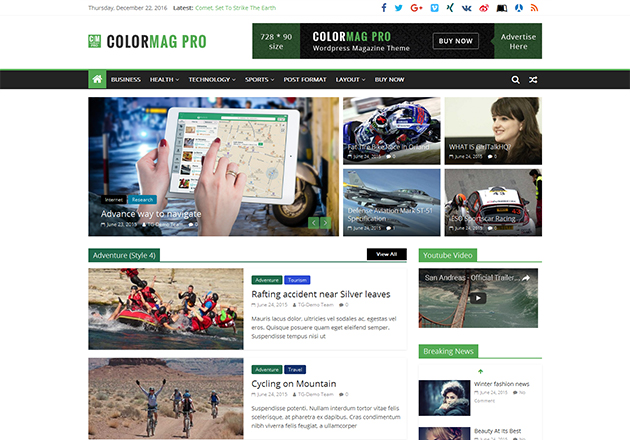 This theme takes two most effective elements: Colours and Magazine style and combines them in a way that looks pleasing and can attract more traffic. The theme, along with all its other features works perfectly for news, newspaper, magazine, publishing, business and any other type of website for that matter.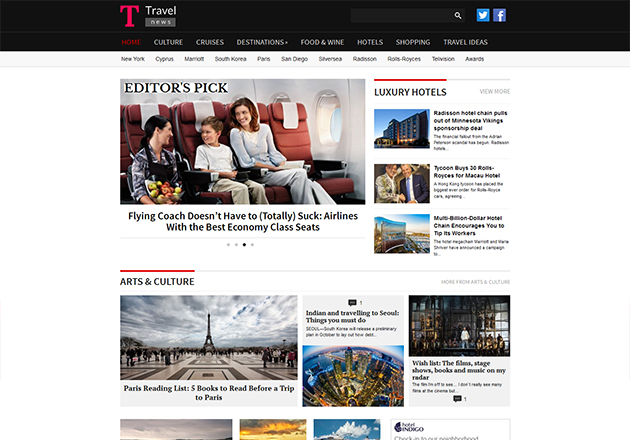 This theme is a perfect blend of aesthetics and professional style that makes it great for travel portal and travel news websites. With this theme, all you will need to worry about is the content and rest everything will be taken care of, thanks to its easy browsing options and impeccable layout.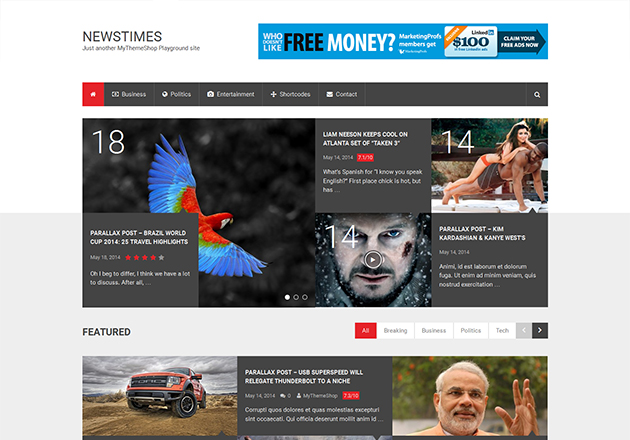 The pixel perfect and attractive design on top of an ultra-responsive design makes this theme a great one for media rich websites. The theme is made using hand-written code with HTML5 and CSS3 which makes it blazingly fast to load. The search engine optimisation is a bonus at it will allow your news to rank higher on search engine results page.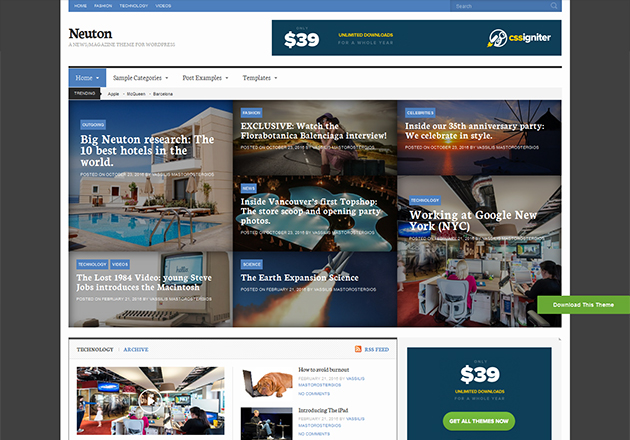 The brilliance of this theme will captivate your visitors with its design that puts the focus right where it should be, that is, your content.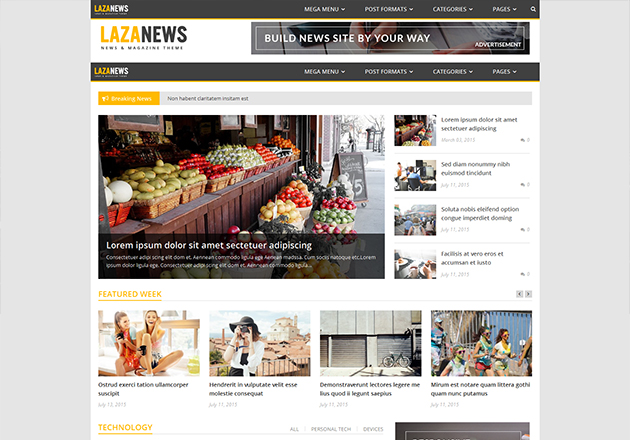 An excellent theme for news, newspaper, magazine or a blog website that uses the Visual Composer plugin that allows you to easily create a unique and creative homepage using the drag and drop interface.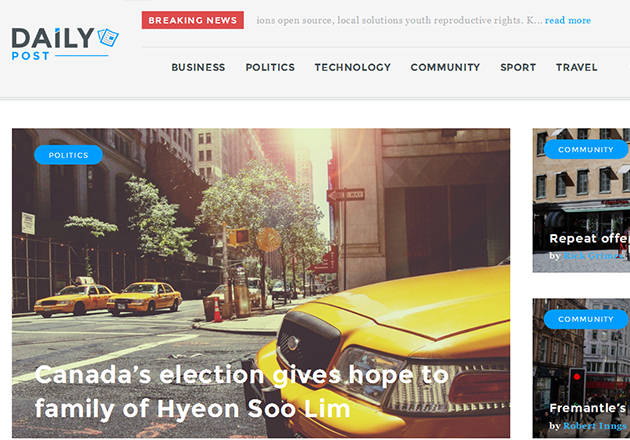 The best thing about this theme is that you can create a visually stunning magazine or blog using the theme's options panel without typing in a single line of code. Some of the many features that come packed with this theme include featured post layouts, several content discovery features, lazy loading and infinite scroll features to provide your visitors with an elegant user experience.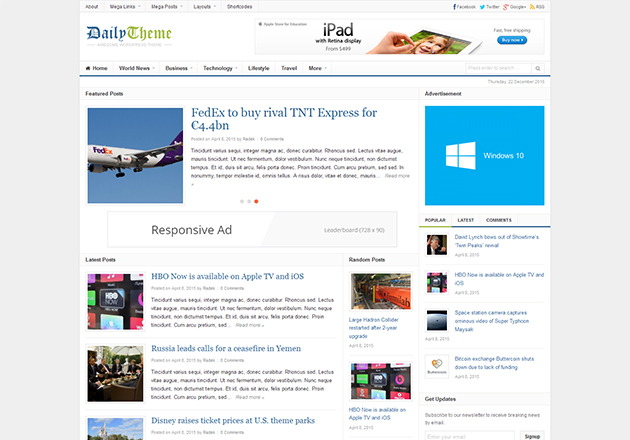 If you are a daily news website and are busy with publications, then this magazine-style theme is your best friend. The theme effectively handles content across multiple categories and provides ample space for both new articles and your best articles to help you achieve maximum content impact.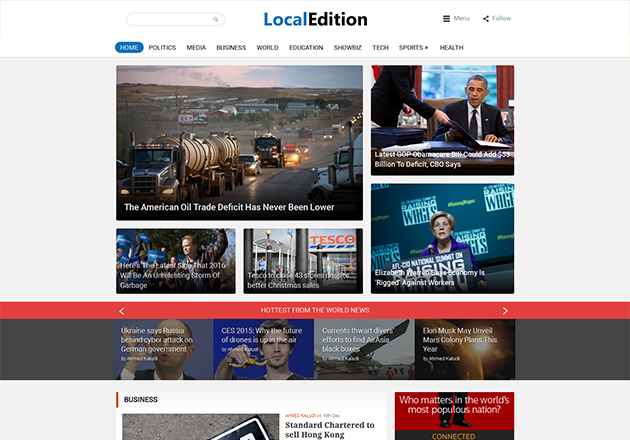 This theme is designed in a way that can attract attention and also allow visitors to read more of your content without engaging them in all the unnecessary clutter. Content presentation and unlimited layouts seem to be this theme's strongest forte.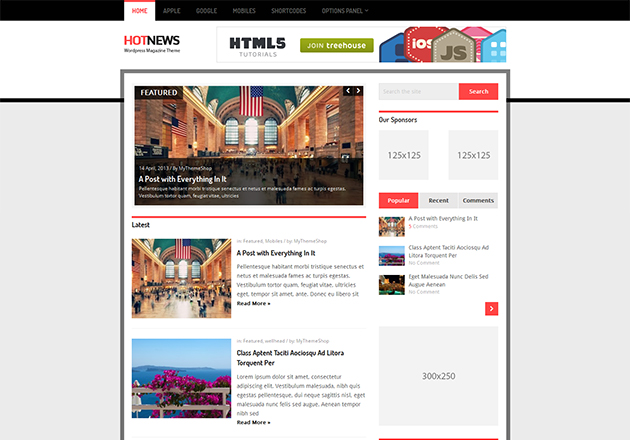 HotNews is probably the most feature packed theme in this list, if you need convincing the theme comes with a slider, numerous post widgets, a touch of colour and plenty of contrast to improve readability. This, along with other of its advanced features makes it great for blogs with heavy text content, media content and for people who wish to have full control over what is displayed on the homepage.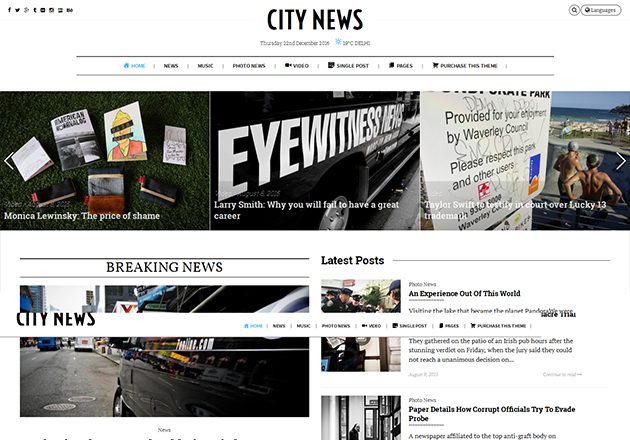 Create a news, blog or magazine website instantly with this easy-to-use theme which is made possible due to its awesome Visual Composer Page Builder. The builder allows you to create a highly customised homepage to make a unique impression on your visitors. The theme comes in with four post format support, standard, video, gallery and audio that will make your content all the more appealing.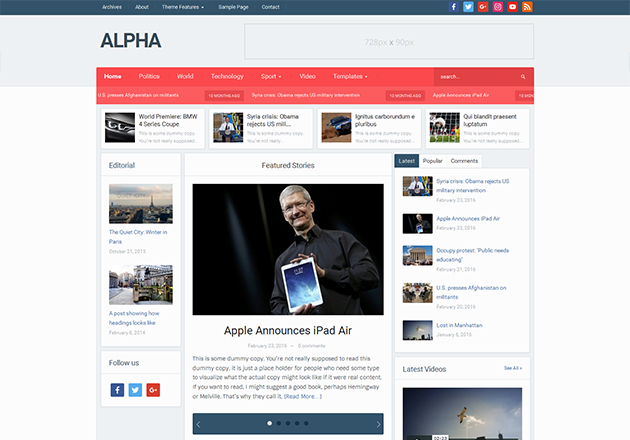 The best part of this theme is its option that allows you choose between two radically different looks, Magazine and NewsPaper. The theme has all the other advanced feature that you typically expect from a newspaper website.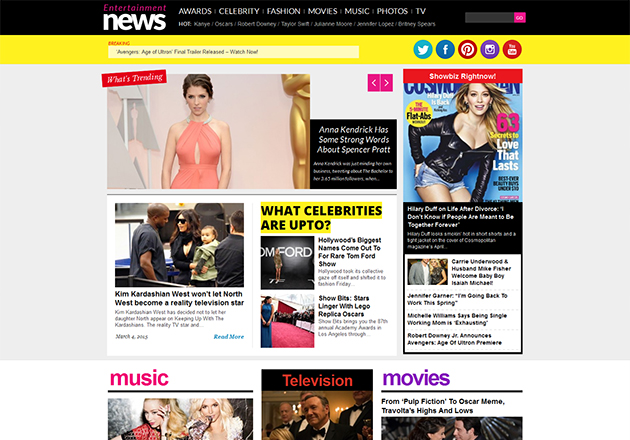 Built specially to cater to all the needs of entertainment news websites and portals, this theme with all its advanced features like adept functions and elegant design makes it great to power any website that has to deal with rich and heavy content.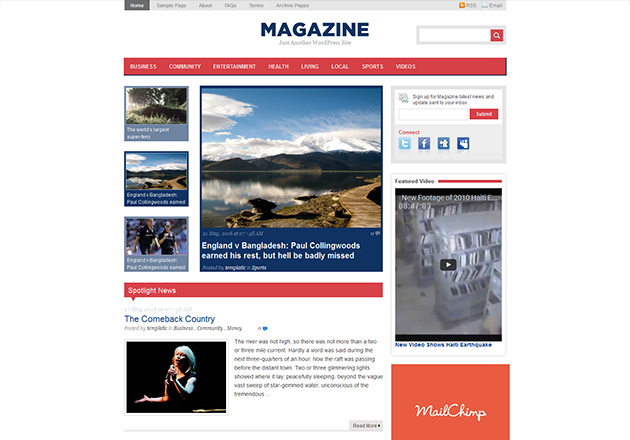 This fully widgetized theme helps you create a news/magazine website within minutes, thanks to its easy to use interface. The theme is great for people who have to post content on an hourly basis.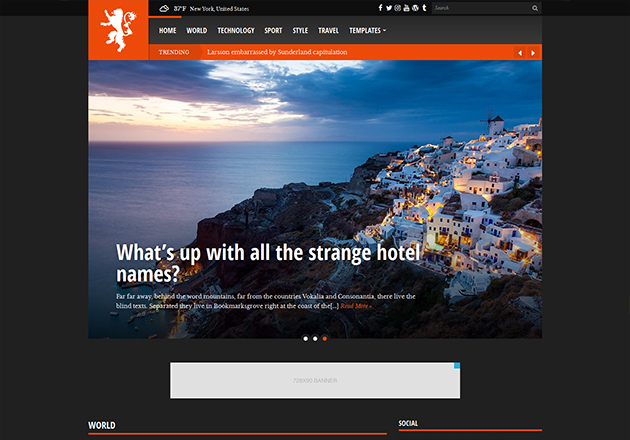 Designed specifically for magazine and news websites, this theme is extremely easy to install and even easier to use. The theme is beautiful and fully responsive, which along with all its other features makes it look brilliant on any device.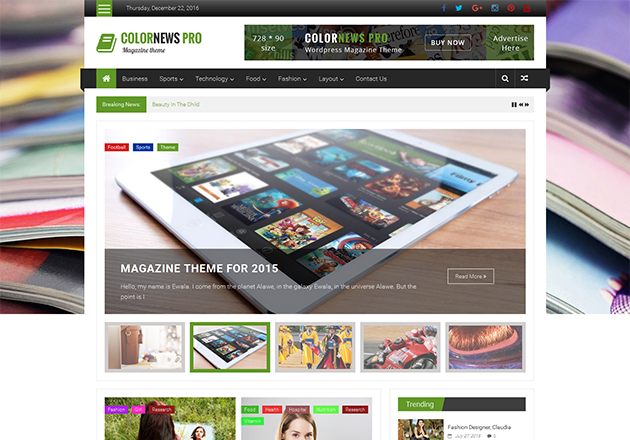 This theme makes use of colourful elements to give your website that extra cool push that it requires to stand out from the rest of the competition across news niches.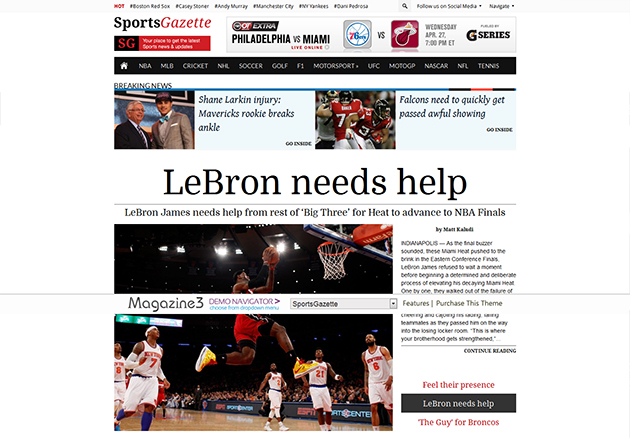 Inspired by the traditional newspaper and magazine websites this theme can also be used to power political, business and all general news website. Every element of this theme is well crafted that makes your site that much more subtle and professional.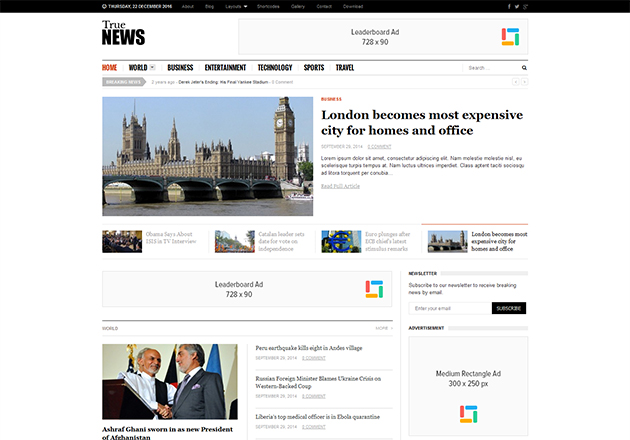 This theme boasts of classy design elements that effectively combines with plenty of modern features, including a drag and drop homepage builder. That and a lot of other features like mega menus, multiple page layouts and a selection of other custom widgets make this theme one of a kind.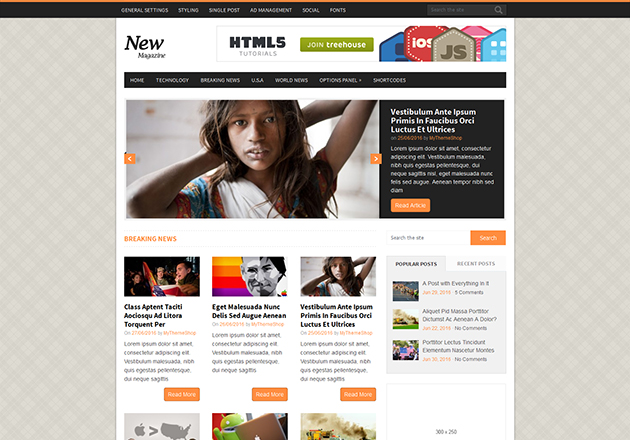 Jam-packed with all the MyThemeShop's premium features, NewsMag offers a three column design which is fluidic responsive and built specifically for sites that have to deal with heavy content. Some of the many features that are included in this theme are the fancy slider, multiple post display and much more.
This theme is massive and made meticulously to impress your visitors with all the news that is presented in a way that is beautiful, elegant and very readable. Some of the many features that fulfil this goal include large featured article banner that is presented in a unique grid layout and a beautiful columned layout that gives you the power to showcase any category of posts you like.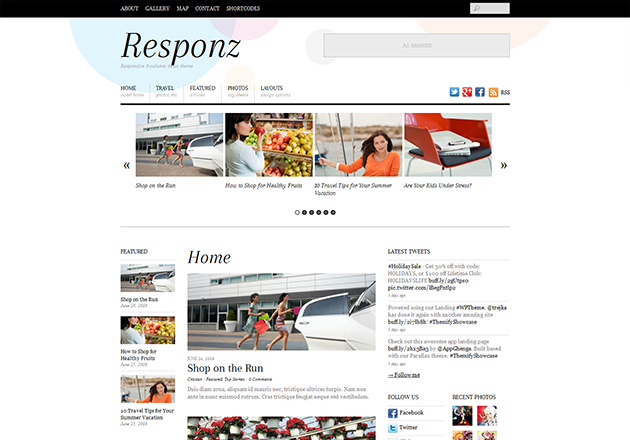 A three column design that presents content beautifully and in a manner that can attract more readers are some of the strongest features of this theme. The theme is overall very minimal with great typography options and looks great on any resolution computer or mobile devices.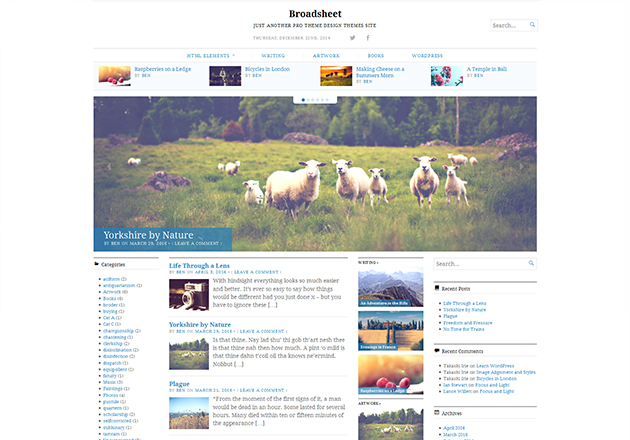 This theme presents you with a multitude of options and features that you can use create an interesting and immersive news website. Some of the many features include three optional widget areas, a huge homepage slider that is suitable for bloggers and news sites that have to cover topics across broad categories.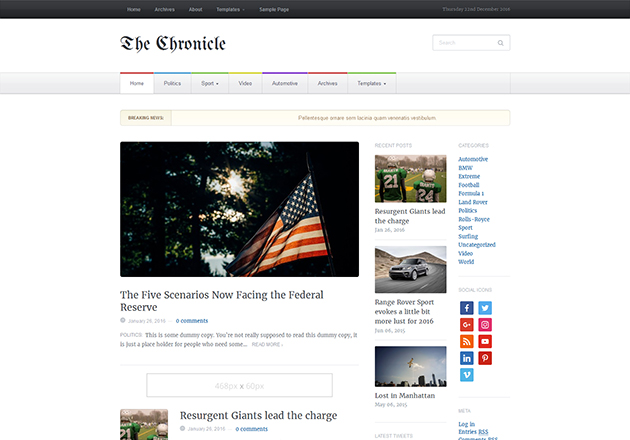 This theme shows off your content in style and offers a great user experience, irrespective of the type of device your visitors are using. In a nutshell, the theme has been made with mainly simplicity and readability in mind.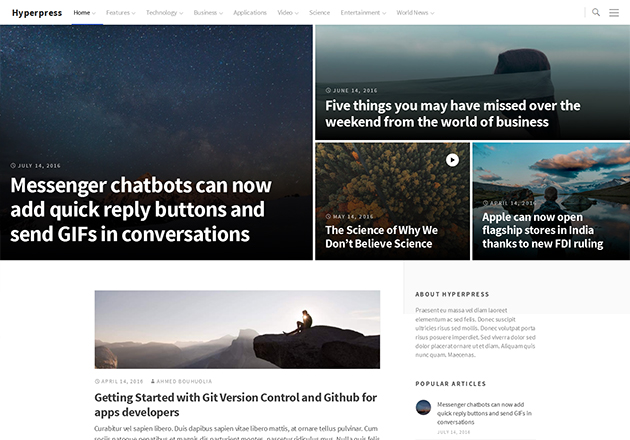 HyperPress gives you the power to display your content in either a tiled, grid or slider layout which essentially makes it great for news, newspaper, magazine or even a general blog. On top of all that the theme offers great search engine optimisation and is built with best coding practices to help your posts rank higher on search engine results page.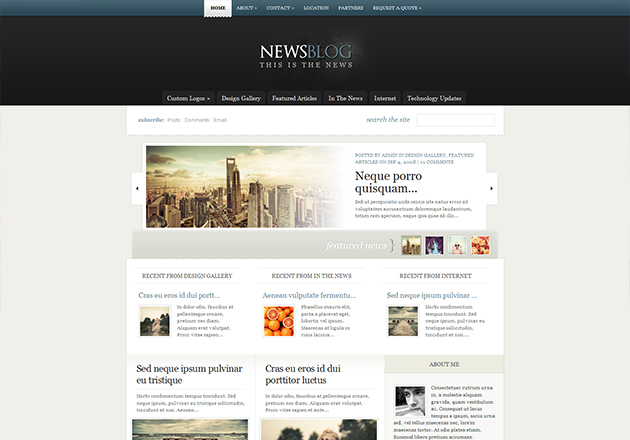 Designed for people who have to deal with a lot of content, this theme combines the power of crispness and subtlety to deliver on its made promises.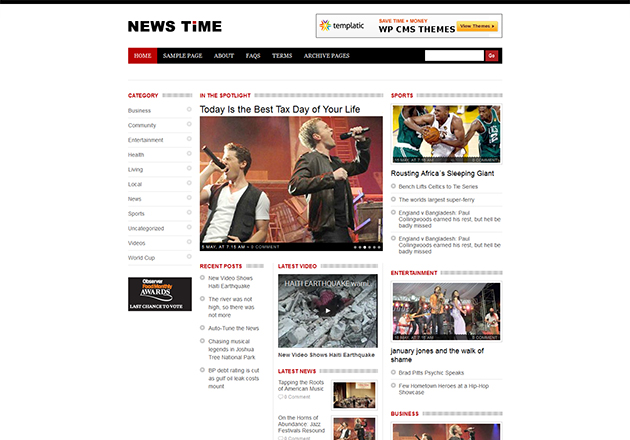 Coming with seven elegant color schemes on top of a subtle design, NewsTime works effectively with your content to help you achieve your targeted goals.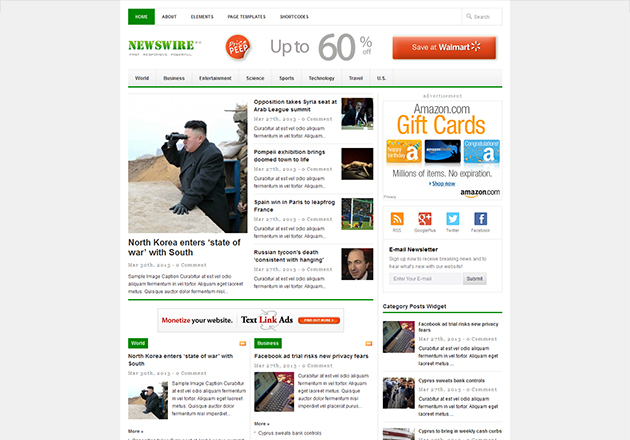 NewsWire has been designed professionally but has all the cool elements to make your visitors enjoy every visit. The theme is very versatile and fluidic with a full responsiveness that makes it look great on any device you wish to use it on. The theme has design elements put strategically in a way that does not come in between your content and the readers.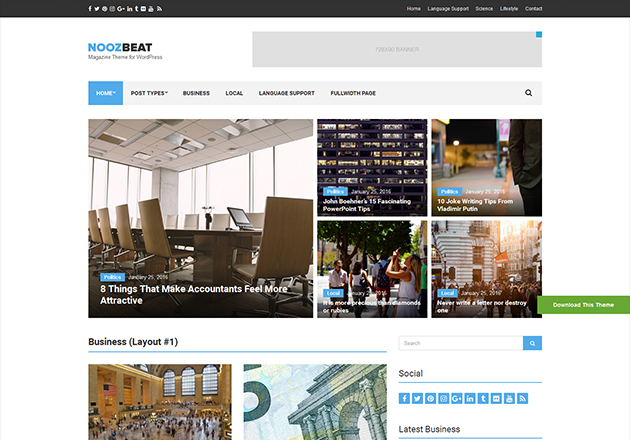 This extremely easy to use theme looks brilliant on any device with its responsive design on top of unique layout options. This and a lot of other features make it precisely great for magazine and news websites.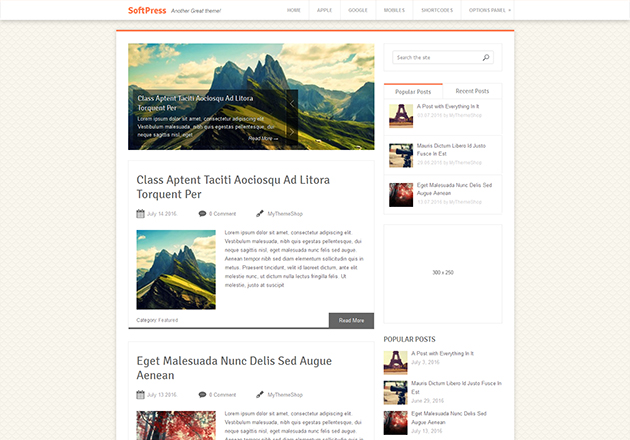 This theme is refined to the very last bit, so all its elements look great on any device, including smartphones and tablets. The theme comes with a wide and single column layout on top of a pretty little slider that you can use to display your posts in style and keep your readers satiated.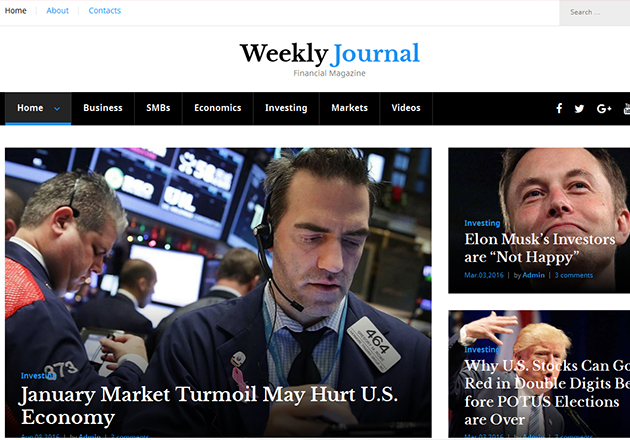 Weekly Journal is an aesthetically pleasing website that is profoundly dynamic with a clean and well-balanced layout that allows you to share a lot of content on one single page without compromising on the most important part of any website, that is, the readability.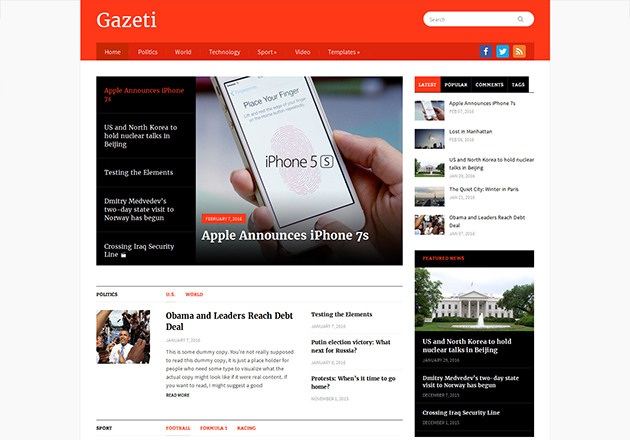 Gazeti is a feature-packed theme that makes it great for news and magazine websites. To give you a gist of what this theme has to offer, it includes sliders, carousels, featured categories and the option to help you choose between various unique colour layouts.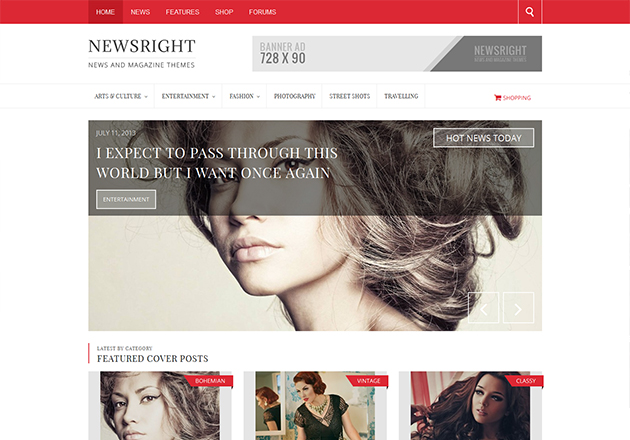 The clean and modern design on top of powerful admin options are only some of the features of this newspaper styled theme. The theme is very feature rich and works great for any type of publishing website. The theme has all the features and functions that make it perfect for review, news and blog sites that have to post text content as well as videos and slideshows.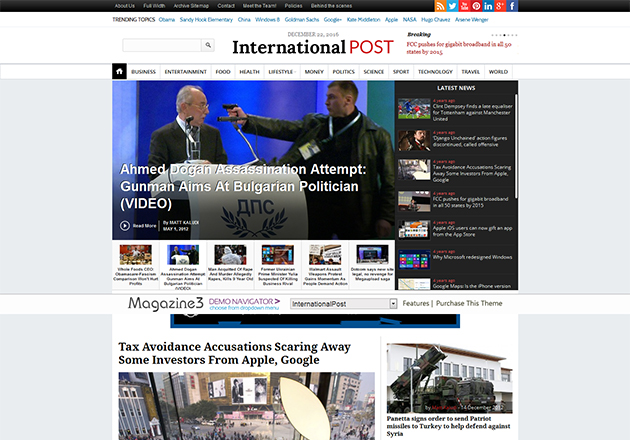 InternationalPost is a magazine styled theme which is what makes it good for newspaper websites, business and other news sites in general. The theme sports elements that are well crafted to make your site look more professional and appealing.
If your primary goal is to focus on content writing without having to worry about all the other technicalities, then Gloria has got you covered. The awesome templates, Youtube and Vimeo integration, rating system, search engine optimisation are not even the best parts about this them. The best thing about the theme is its great support and friendly help that is available 24/7.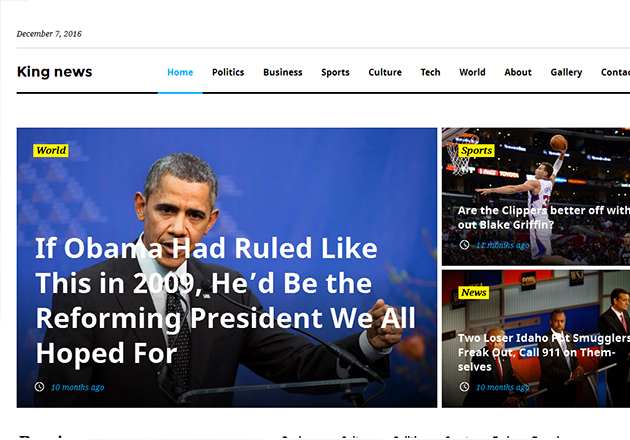 KingNews is for those who are into publishing business or for people who want to create an eye-catching news website. The multiple widgets included in the theme along with various layouts allows you to make a truly unique website that is both attractive and functional.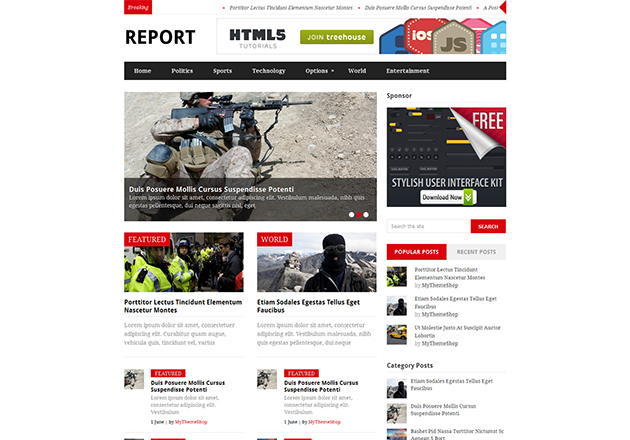 Bundled with all the features of MyThemeShop, Report has a dual column design and fully responsive trendy layout that is bound to attract people to your website and then keep them coming back for more.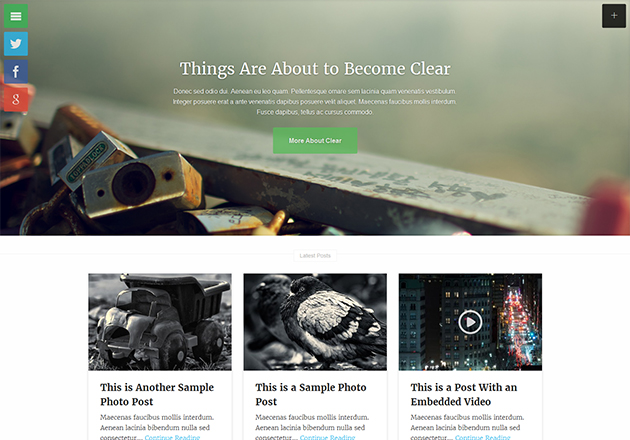 The best part of this theme is its simplicity, both regarding design and ease of use. The theme has minimal elements to create space for the most important part of your website, that is, the content.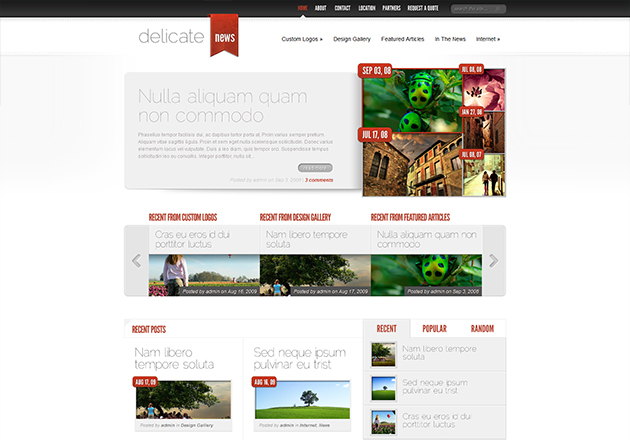 Featuring a three column grid and many homepage content outlets this theme gives ample space and opportunity to feature tonnes of content without all the fuss and clutter. The theme is very adept at handling heavy content which is one of the many factors that make it great for news websites.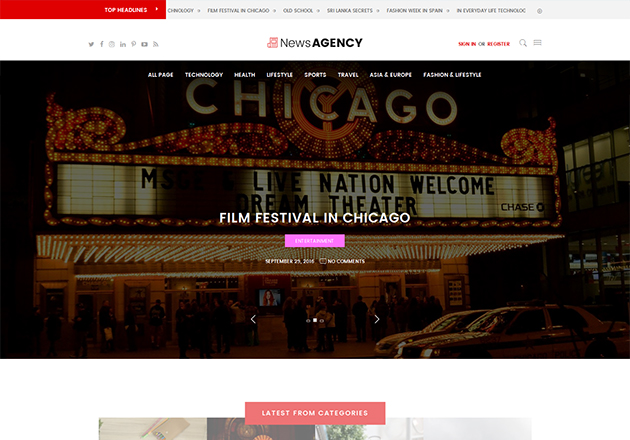 A very simple, easy to customise and clean theme that has been built especially for news and editorial focused websites. The theme boasts design and functions that make it equally great for online news, magazines, bloggers and writers.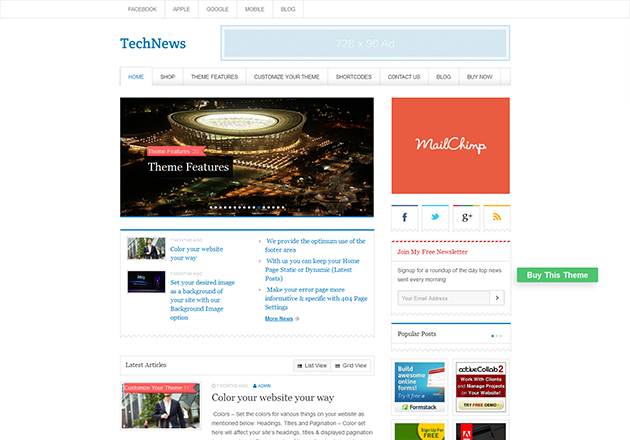 TechNews is a feature packed theme and is an ideal solution for news websites in particular and blogs in general.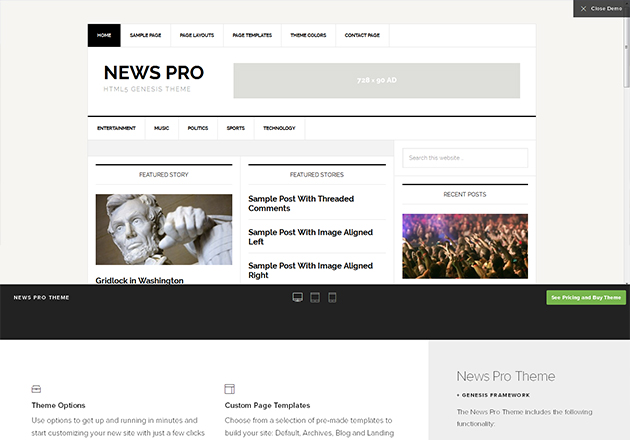 If your targeted audience is hungry for information and news and you want to fill their appetite with more content, then News Pro Theme is the one you should give a go at. You get a chance to share your stories in all forms ranging right from articles, audio and videos to a mix of all of these.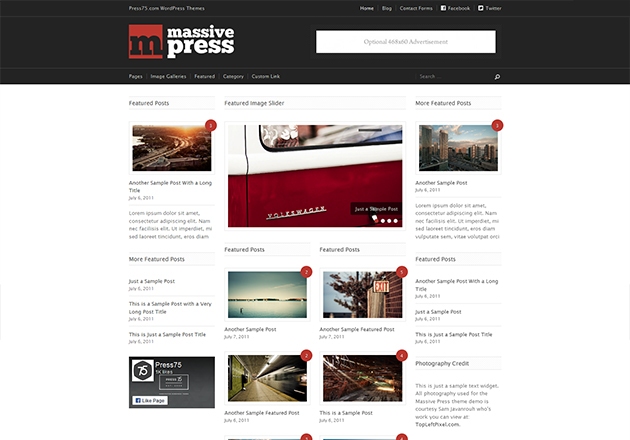 Clean grid based design and full customizability are only some of the many features of this theme that make it exceptional and suitable for news, magazine and every other type of website for that matter. You get full access to changing each element on your homepage directly from the theme options panel.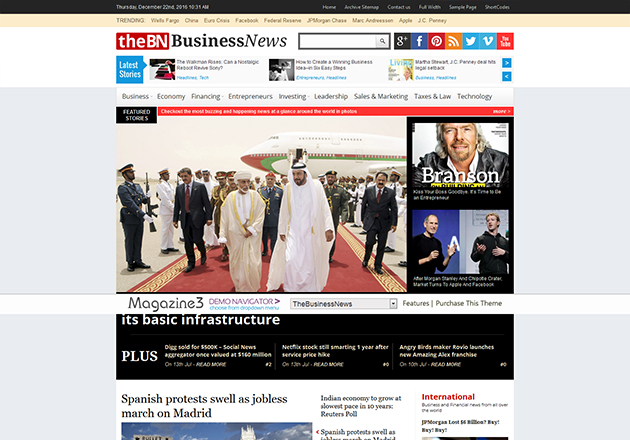 Running a business or financial news website and want something that enhances its overall accessibility and elegance? TheBusinessNews is your best bet. All the elements have been crafted in a way that feels more professional and authoritative, a feature that is essential for business and financial news providing websites.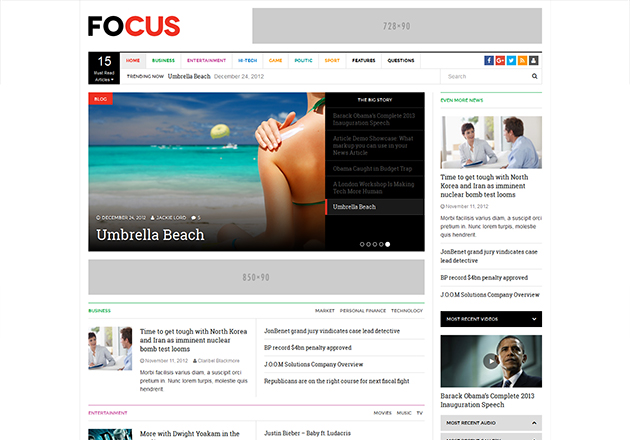 Responsiveness and modern design are only some of the features of this theme that make it stand out from the rest of the crowd. The theme has a neat and clean layout and fonts that can adapt to any device that is used to view it from.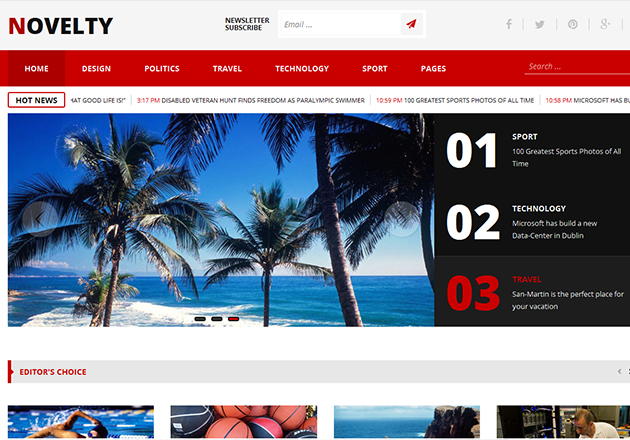 Novelty is a website that is meant to help you organise content and then showcase the news in a way that is both novel and aesthetic. Other features that make this theme one of a kind include a bold, modern and responsive design that looks great on any device.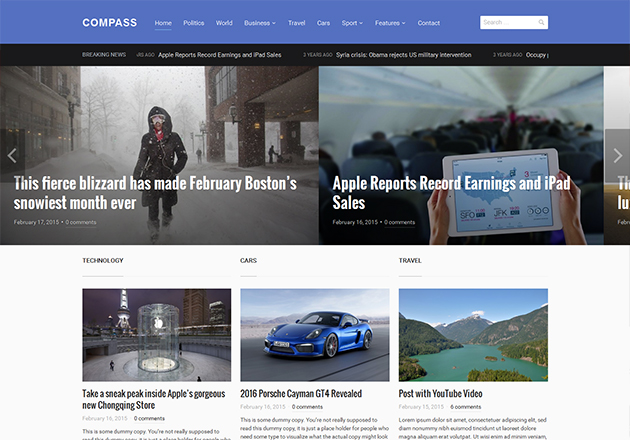 Compass is a highly customizable theme that although is highly sophisticated in style but still manages to be very easy to use. The customization and layout options allow you to weave the website just the way you want it to create a truly unique experience.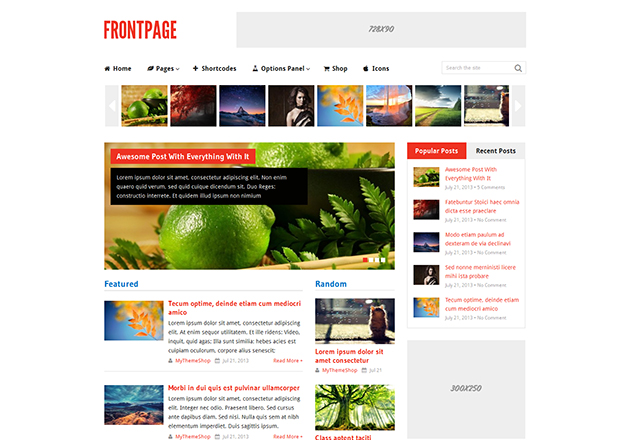 If you want to make a news site but also want a part of it to function as an online store, then FrontPage is the theme you should try. The theme is so versatile that it can be used as a store, magazine, blog, or just a static website. This is further made possible with the theme's six different homepage layouts and three different single post layouts.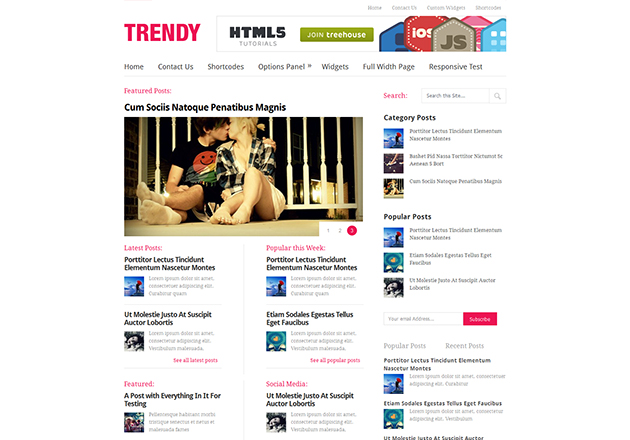 With all the features you can expect from a premium theme, Trendy is rightly stylish and has a lot of other surprises up its sleeve. The theme features a slider powered by jQuery and a variety of custom widgets.
Conclusion-
I hope you enjoyed reading the post. If you have any more suggestions, feel free to share in the comments section below.