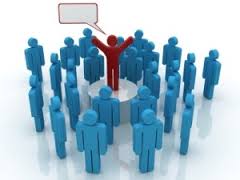 Blog Subscribers plays an vital role in increasing your traffic in great way. Having high number of subscribers may help you to make blog posts interaction ever more with comments and sharing. But do you know how to get large number of subscribers to your blog, If no then you don't have to worry as today I am going to mention the top 5 ways to get more subscriber to your blog in less period of time. Note- Subscribers is directly proportional to your blog traffic+theme+quality article and widgets. So lets read more on it just below!

Best Tips on How to increase your Blog Subscribers?
1. Write great Content always
Its always a better idea to write more quality content in your site as to boost your readers attention. This will helps you to create trust and people will follow your article without any problems.
2. Make it easy to Subscribe
If you have easy Subscription options in your blog at header or footer, then it might to good for your visitors to subscribe more quickly. You can also use pop-ups subscription boxes.
3. Ask and Offer a Freebie to your blog Subscribers
What if you offer your visitors a freebie in order to subscribe your blog, well this strategy is damn good. Now you can offer them free downloads, ebook etc in form of a freebie.
4. Interact more
Keep interacting with your readers always as in your blog comments, help them and take fruitful reward. Develop a healthy relation with each other.
5. Guest Posting
Well this method always rocks as to gain popularity and backlinks too. Do Guest posts on another blogs related to your niche and convert their subscribers to your one also.
6. Create a Dedicated Subscription Landing Page
Take help of Google Analytics to know your top landing pages and decorate them in a beautiful manner to Subscribe.
7. Display beautiful Subscription boxes or Widgets
Get awesome subscription boxes inserted in your blog using HTML 5 and CSS. Make all in one subscribe box including your RSS, Social Media links and Newsletter.
8. Show current Subscribers
Showing current blog subscribers( if you have large) may excite other people to subscribe to your blog asap. You can make buttons looking good with the help of feedburner.
9. Comment on other blogs
Blog commenting always proved to be good and powerful weapon. Put your comments on other blogs as to gain traffic, links and interaction with visitors all around the world. Commentluv enabled blogs are the best place to comment on.
10. Sharing is caring
Display social media bookmarking buttons on your blog posts as to make your blog more Socialize. Let other readers know about your site through Social media sites.
All Done! have a nice day and don't forgot to Subscribe to my blog also.