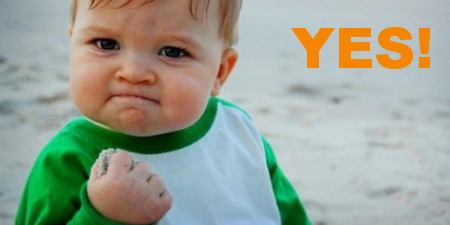 Blogging is one of those things that everyone thinks they can do, which to a certain degree is true, but writing a blog and being a successful blogger are two very different things. To help you on your way to blogging success, here are five things you can learn from some of the most successful blogs out there.
5 Things We Can Learn From Successful Blogs
1. Passion
Passion is an essential part of a successful blog. There are millions of blogs out there but very few reach ultimate success. If you're passionate about what you're writing about then you shouldn't be bothered whether you're making money from it, you should be doing it anyway.
A passionate writer pushes topics much further than someone who's writing about something just to make money, just to pass the time or just to fill a quota of writing hours. They'll go to unnecessary lengths to research their next article and to decide on a spin that'll separate them from the rest and ensure their readers return.
2. Unique spin
Finding a unique angle or niche, that sets you apart from the rest is something that successful bloggers do so well. If this is something you're struggling with then it's definitely worth reading a few of the industry's leading blogs to get some ideas on writing styles and what's successful.
The Football Ramble for example, started back in 2007 and wouldn't have had even half the success it has today if it wasn't for the novel way the lads write about their favourite topic – football. Thanks to their natural humour and strong writing skills these guys have grown so big, they're considered one of the best UK football blogs around.
Another blogger who found that humour was her friend is fashion blogger Leandra Medine, who started Man Repeller back in 2010. Now far more than just a fashion blogger, she covers every topic with a hilarious twist and is now considered one of Look's top fashion bloggers.
3. Patience
Along with passion comes patience, an essential ingredient to ensuring a successful blog. It can take months or even years to build a following and a dedicated readership which dotes on your every word, and until that point you need to remember your passion – it comes before everything after all. So long as passion is at the forefront of your mind, your blog won't fall into the category of 'dead end fad that'll never go anywhere', it won't become one of those blogs that's posted on constantly for six months only never to be logged into again. So long as you're patient, success will come. Just look at Heather Armstrong, she's now one of the world's most successful bloggers but even she had a slow start. Owner of Dooce, she now gets thousands of hits on every post and has thousands of followers on all of her social media platforms. It wasn't always like that though, it took her three years to get any ads posted on her site. THREE YEARS!
4. Testing
It's no good posting tips, guidelines, tutorials etc. if you're not going to use them yourself. The most successful blogs really do practice what they preach and their writers will always test out any tips before they share them with their readers. Essentially this means they're only ever sharing the best advice with their followers – no one would listen to them otherwise and they wouldn't be half as successful as they are today.
5. Social media
Every successful blog comes with a collection of social media accounts worth their weight in gold. You don't ever see a renowned blogger without Facebook, Twitter or Instagram, it just doesn't happen. Now why is that?
Social media has become such a huge part of our society that it's so much more difficult to become successful without it. Just think about the blogs that you read, would you have read them if they hadn't popped up in your LinkedIn feed or been suggested to you on Facebook. The people you follow on Instagram, the ones you don't even know, why do you follow them? You follow them because they post images, blogs and snippets of information that are useful, interesting, eye catching and, most importantly relevant.
Follow these tips and you're well on your way to competing for the readership and followers of your favourite blogger.