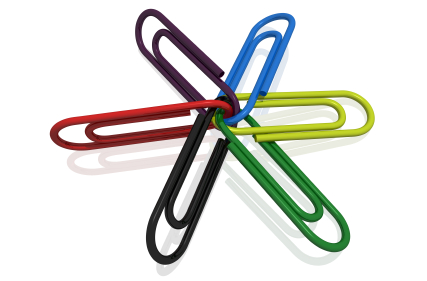 Link building is a critical part of just about any kind of online business. Regardless of whether you are starting a blog, an e-commerce website, a membership website, a forum, or a social network, you'll need to get exposure in order for the site to be successful.
Links are important for click-through traffic as well as for search engine optimization. While every website owner and blogger recognizes the importance of link building, the process of acquiring links from other websites and blogs is not something that most website owners enjoy or find to be easy.
In this article we'll look at 5 different link building techniques that you can put into practice to get high-quality links to your own website or blog.
5 Legitimate Link Building Strategies That Work
Method #1: Egobait
People love to be recognized and complimented, and this link building approach uses that human nature to your own advantage. The idea is that many bloggers and website owners will link to you if you compliment them in your blog post.
One of the best ways to put this into action is to create a list of some sort, mention other bloggers, and then contact them to let them know that you have featured them in a blog post. You can do this in any industry or niche. Here are some examples of possible egobait posts:
25 of the best photography blogs

20 up-and-coming travel bloggers

50 SEOs to follow on Twitter

10 health and fitness bloggers to follow on Google+

15 young business bloggers to follow

20 must-see web design portfolios
You'll put together your list post and then email a link to your post to each person, website, or blog that is featured on your list. On most sites you should be able to easily find a contact form to reach the site owner.
Most people will be excited and honored to be listed among the best of anything, and they may wind up linking to your post. If you want to take it a step further you can create a badge graphic that they can add to their blog or website to indicate that they were selected among the best, and they can link the badge back to your post. If you aren't able to create a badge graphic on your own you could easily find someone at a site like Fiverr or Elance to design it for just a few dollars.
While certainly not everyone that you include in your list will link to your post, many will be more likely to share the link via social media sites like Twitter, Facebook, or Google+. If they have a decent following you can wind up with a lot of their followers also sharing the link, and it could have a viral effect that leads to a lot of traffic.
One thing to keep in mind, the biggest blogs are less likely to link to your post. If I were creating a list of my favorite blogs I might include ProBlogger. Since ProBlogger gets so many links and recognition every day it's highly unlikely that Darren would link to my post from ProBlogger. With that in mind, it's often more effective to focus on others aside from the industry leaders. So I might have more success with something like "10 Up-and-Coming Social Media Bloggers". This list could include some great blogs that haven't yet gotten as much exposure, and they may be more excited and more likely to link back to my post.
Method #2: Freebies
This is another link building approach that can work in just about any industry or niche. Offering free resources for visitors to download is a great way to attract links and social media shares, and your visitors will love the freebies.
Here are some examples that show possibilities in a wide variety of topics:
Free e-book of recipes

Free digital papers for digital scrapbookers

Free stock photos

Free Photoshop files for graphic designers

Free Photoshop actions for photographers

Free spreadsheet template for setting up a personal budget

Free patterns for different types of crafts
As you can see, there are plenty of possibilities. Of course, you'll want to come up with freebies that will appeal to your target audience, and then once the freebies are available you can reach out to some bloggers and website owners in the niche to see if they would be interested in linking to the resources. From my experience, many bloggers are more likely to link to a page with free downloads than they would be to link to a typical blog post.
Method #3: Epic Content
By "epic" content I am referring to a blog post or article that goes far above and beyond the level of a typical blog post. An epic post will be valuable, informative, detailed information that is highly useful to readers and stands out among other blog posts on similar topics.
Ideally, your epic content will be so valuable that many people in your target audience would be willing to pay for the information provided. It may take you much longer to create an epic post as compared to your average blog post, but it opens up several opportunities, including link building.
After you have written and published your epic content you can reach out to other bloggers in the niche or industry to let them know about the post, and you can also ask them to share it if they think their readers/followers would benefit from it.
When you're looking for bloggers or website owners to approach you can search for blogs and websites that publish link roundups or have resource lists that might be a good place to add a link to your post. Many blogs publish weekly or monthly roundups that include links to several blog posts that they recently came across, and these bloggers would be excellent people to contact about your epic post.
If your post truly is extremely useful and if you contact a number of bloggers and site owners, you should start to get some links, and probably some social media shares. The shares on social media may also be shared by that person's followers, and your link could go viral.
For a more detailed look at how to use this approach please see the Guide to Epic Blog Content.
Method #4: Guest Posting
Guest posting has been a popular link and traffic building technique for several years, but it can still be highly effective. You may have seen Matt Cutts recent post declaring the death of guest posts. The guest posting practices that Google frowns upon are not really what I'm talking about here. There are a lot of companies and individuals out there who have been submitting loads of guest posts for clients in order to rack up a ton of backlinks. In the vast majority of these cases the SEOs or marketers are submitting low quality content with very little value to readers. Google is trying to prevent these types of articles, and the blogs that publish them, from flourishing. If you're submitting high quality guest posts to reputable sites, and not building hundreds or thousands of links this way, there is still a lot of value in guest posting.
Typically, your guest posts will include an author bio where you link back to your own site or blog. Many people who submit guest posts will often also include a keyword-stuffed link to their homepage somewhere in the body of the article. In many cases these links won't be accepted by the publishing blogger, because they usually have an unnatural feel to them and can put both bloggers at risk of a Google penalty for unnatural links.
The keyword-stuffed in-content link approach is not one that I have used with my own guest posting, so I have typically written guest posts just for the link in the author bio. But one method that I've used with a lot of success in the past year is to write and publish posts on my own blogs specifically for the purpose of adding a link within the body of a guest post. I typically start with the guest post, or at least the outline for the guest post, and I think about what types of content I would naturally link to when writing the article. Then I create a post for my own blog that will provide the information that I want to link to.
For example, imagine you have a photography blog and you're writing a guest post for another blog that includes a list of 10 tips for improving your photography. One of those tips could be to learn how to take photos with your camera in manual mode. Since your guest post is a list of 10 tips you're not going to be able to go in depth to explain all the ins-and-outs of how to shoot in manual mode. Instead, you might link to a guide on learning to shoot in manual mode so readers can get more information if they want it. And if you're going to link to this guide from your guest post, why not write your own guide, publish it on your own blog, and link to that guide from your guest post? So essentially you are just looking at the types of content that you would naturally link to from your guest post, and then you're creating that content on your own blog (unless you already have it on your blog), and linking to it.
You could also think about the posts you already have on your blog and then try to come up with possible guest posts that you could write that would include a link back to your own posts. Personally, I find it a little bit easier to start with the guest post and then create the post for my own blog that will expand on one of the points in the article, and I find that it results in more natural links.
This approach can be highly effective because links within the body of a blog post typically receive far more clicks than a link in the author bio. Also, in-post links may carry more weight for SEO. And if another blog re-posts, scrapes, or steals the blog content they're not likely to include your author bio, but they are likely to include the links in the article body.
Method #5: Updating Old Content for Others
Another approach that I've used in the past year with excellent results is to find outdated content on other blogs and offer to provide updated content to replace it. A commonly-used method is to find and replace dead links. This approach involves finding dead links on other websites and asking the site owner to replace the dead link with a link to similar content on your site or blog. However, my approach is sometimes a little bit different.
Google's emphasis on fresh content within the past year or two has led most bloggers and website owners to have more motivation to keep their content up-to-date and to publish new content. My approach has been to find outdated content and to contact the blogger about the possibility of updating the existing post or publishing a new post that will be more up-to-date. If the existing content is a few years old it may also include some dead links, or it may be out of date simply because of changes that have occurred since it was originally published.
Let's take a look at one example of how this approach can work really well. Imagine that you run a recipe blog where you frequently publish all different types of recipes. You could do some searches for blog posts that are roundups with links to several different recipes. You'd want to find some posts that are maybe a few years old and see if they include some dead links (you can use a browser add on like Check My Links to make this easy). If the post is a few years old, chances are some of the recipes that it is linking to may no longer be online, resulting in dead links. You could reach out to the blogger and offer to either provide new links to recipes to update the post and replace the dead links, or you could offer to provide a completely new post that will provide an updated list of the same topic. I've tried it both ways and had some success both ways.
If you have some contacts or friends with blogs in your industry or niche this would be a great place to start. I looked for some pages with dead links on a few of my friends' blogs, then put together some possible replacement links and emailed them to offer the replacement links as a way to fix their dead links and update the post. You're more likely to get a response and to get the links from someone that you know, so I would recommend starting there.
This first example is basically just finding dead links and attempting to replace them with links to your own blog or site. But the approach of updating content can be much more than just finding and replacing dead links.
Let's take a look at another example. Imagine you have a personal finance blog. Every year there are going to be some minor or major changes to tax laws and credits that are available. You could take a current or upcoming change to the tax code and do a search to find some pages or blog posts that are now inaccurate or outdated because of the changes. You can contact the blogger or website owner to point out this content on their site that is no longer accurate and offer to update the existing article for them or provide them with a totally new article that will detail the changes. In exchange, you could ask for a link to your site as a reference or source, or if appropriate, you could link to a related article on your site within the body of the article.
This type of approach can work well, especially in industries that change or adapt frequently. If you blog about SEO you can certainly find some articles that include information that is no longer relevant or accurate. If you blog about web design you can easily find articles that are outdated and could be made much more relevant with information about new technologies.
It's also helpful to work backwards. Start by thinking about what page or content on your site you would like to get links to. As an example, imagine that you run a blog with WordPress tips and tutorials. Maybe you just created a shiny new infographic with statistics about the popularity of WordPress and how many websites are powered by WordPress. If you want to build links to this infographic a great approach would be to search for pages and posts on other sites that include statistics about WordPress's popularity. No doubt you'd be able to find pages from several years ago with numbers that are now completely outdated. You could contact the site owner or blogger and offer the updated and current infographic as a way to make their old page current and relevant again. And of course, you could ask that if they use the infographic they link back to your site as the source.
Conclusion
There are countless different approaches that you can take when it comes to building links to your site, but not all approaches are equal. You'll want to focus on getting quality links (and avoiding shady tactics) and getting a good return for the amount of time that you invest into your link building efforts. I've found that these 5 approaches can be effective for both building quality links and for getting the most out of your time and effort. If you have any thoughts from your own experiences please feel free to share in the comments.