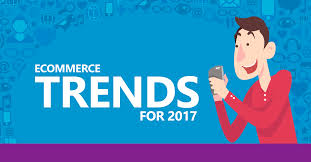 Over the years, eCommerce has become one of the most popular forms of selling products as most people can now be found scouring the internet for different products and services. However, as the internet evolves, so do the eCommerce strategies. If you want to be successful in your business, then you need to keep up with the trends. Here are 5 of the expected trends that will help you be successful this 2017:
5 Key top eCommerce Trends 2017-
ECommerce Going Physical
We've all been used to eCommerce stores having only an online presence which is fine because the only place that they need to be is on the internet. However, this 2017, big brands like Amazon and Alibaba are planning to open up an actual store. This move comes from these companies recognizing the need for increasing customer experience by giving the customers an actual store where they can shop, interact with the salespeople, and try out stuff. The tricky part here would be to properly blend both digital and physical stores.
B2B Shopping to Change to B2C Style Shopping
B2B shopping is very big on the internet because of service providers that provide online business' needs. However, brands that are typically B2B will be employing a B2C approach to overall improve the customer experience of their clients. This move will be for the purpose of driving more quantity for sales.
Artificial Intelligence
While artificial intelligence is not that relatively new, it will become the next big thing in eCommerce. Chatbots, which are robots that would chat with customers to attend to their customer service needs, are already leading the fray. Eventually, there is expected to be a growth in artificial intelligence that is able to interpret data and actually predict certain outcomes by simply computing the data. These AI's are built to produce precise and accurate results based on the given data.
Logistics and Shipping Having an Even Bigger Role
The past few years, shipping has been a big thing for consumers and eCommerce websites as a whole. As the demand for online shopping grows, the demand for better shipping procedures is also raised. People will be demanding a smoother shipping and product return process as online shopping evolves. Overall, people will want faster, smoother, and cheaper shipping. The company that can provide these traits will end up at the top.
Mobile ECommerce Seen to Grow Even Further
While mobile engagement has already made its presence felt last year, mobile shopping is said to raise revenues by 50% in 2017 from the year 2016. This is because mobile apps have been gaining popularity over the past years and online shopping platforms have been taking advantage of this. It's further expected to grow in this year.
These are some of the trends that are expected to hit the market in this year. The year 2016 had seen a really big growth in online shopping, and it will definitely continue. If you are already in the eCommerce business, then it's best to ride along with the trends so that you'll be able to fully maximize the revenues of your online store for the year 2017.
About the Author:
Jessa Nova is part of Marketing team of ConvertBetter and she has a good grasp of all the essentials of building and promoting a website. Her skills and knowledge in her field makes her prominent in the company.