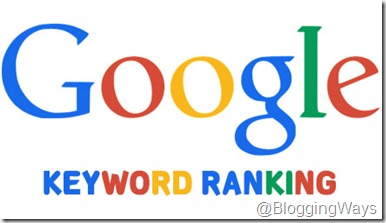 If you are an SEO professional , then you must know the importance of keywords and Google Keyword rankings for target Keyword etc. Without implementing proper SEO techniques, your blog post can never be ranked well in Google SERPS although with proper keyword selection. Hence you should know how to target keyword in article, use them nicely and get good keyword rankings in Google and other search engine's too. So today's post is all about How to Check Google Keyword Ranking using some Websites. Well Keyword ranking in that sense is number and position the website of the owner appears at the Google search results for that particular word etc. Now Rank checking also helps us in knowing our competitor's rank in Search engine Ranking Pages. Therefore its very mandatory to do it and Know at what position…our keyword is ranking in Google top pages.
At this point, we need a tool or site which can tell you where any specific keyword ranks in Google search results without going through 100's of search results and pages fast. So to solve this problem, here are the best free online tools and websites to check your target Keyword position easily at Google. Have a look!
5 Best Tools to check Google Keyword Ranking:
This is one of the best tool which lets you check instant keyword positioning in search engine. This website provides you results from major search engines like Google, Yahoo and Bing. You can get results from 50 pages. Just enter your keyword and domain and you'll get exact position of your keyword ranking.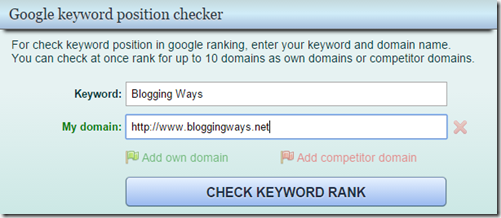 This Google Keyword Position Checker tool helps you to check keyword position in Google ranking, just enter your keyword and domain name. Thus, You can check at once rank for up to 10 domains as own domains or competitor domains etc.
Google Rank Checker is an excellent free online utility which help users track keyword positioning in Google SERPS. It will show you complete details about specific keyword including its rank in different search engines along with the history of the keyword.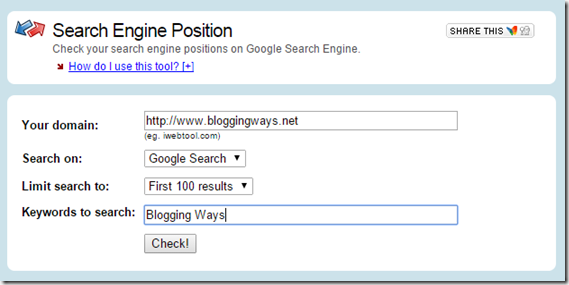 Search Engine Position let you Check your search engine positions on Google Search Engine. Now just enter your domain, limit search results and enter your keywords to search on etc. As per me, its the best tool for simplicity and easy to use.
Serps.com is another great free tool that is the best when you are doing searches that are based on countries. It has a locality based rank tracker and has upto 100 country supports. Now you can choose any country for more improved results.
Conclusion:
So what's you think on today's post, Is it helpful? then please tell me at Comments and by Sharing the post. Thus as a Webmaster, you need to analyze your Google keyword ranks and position in order to improve it and drive high amount of traffic from Search Engines. Hence the above mentioned tools can help you to check your website and keyword ranking easily and quickly. Therefore it's time to check your rankings and your competitors keyword position in Google etc. Get go, till then enjoy and Good BYE>>>