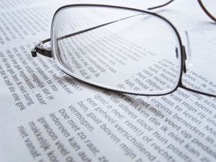 Are you Suffering from- "No one reads your blog posts", If Yes, then today we have the solution to cure it. Well Writing Posts seems to be easy but making it readable till the end for your visitors it something quite difficult to do. Therefore One of the easiest ways to improve the quality of your blog is to increase the readability level. So lets start with the exact definition of Readability i.e the level to which your blog posts are easy to read out. One of the most important factor is to make blog posts easy to read and navigate through to improve readability. Hence Here are some quick tips to make your blog posts more readable…
5 Best Tips to Improve your Blog Readability
1. Increase Font Size
This is the very first thing to do. Increasing font size means larger texts and words. The natural font size of WordPress articles is quite readable, but you can make blog posts even more readable by increasing the font size. Well The font size should be at least 14px or even 16/18px. Now one can also use TinyMCE Advanced plugin which adds the font size option to the visual editor which makes it easy for you to increase font size etc.
2. Use pictures, graphs and infographics
People won't always enjoy reading text after text, so make your blog posts more pleasant to read by adding beautiful images and Infographics. Sometimes Pictures says more than words. Therefore try to include several images before you start the article, in the middle and at the ending. For an 1000 words article, 3-4 images are quite ok at all. On the other side, Infographics can itself describe the whole post etc.
3. Keep paragraphs short
Well this is must. Keeping your posts paragraph relatively short and to the point will increase the likelihood of them being read in full. Try to write less and meaningful enough to explain the whole scenario. That's the only thing you can do to keep your content easy and easier to read out full.
4. Use blockquotes, headings, bullets and lists
Next thing is to use blockquotes, headlines, bullets and lists etc in your articles. This makes your blog posts interesting and readable as well. Why are books easy to read? Because their content is broken down into bite-size bits through the use of chapters, headings, and bullets. Therefore your posts will benefit from the same use of content guides & dividers.
5. Put an Conclusion at the end
This is must, all you have to include an conclusion at the end of your post describing the whole thing in moral terms and an quick synopsis of it etc. By doing this, readers to scroll further down the page because that one section will explain what your blog post is all about. That's it from my side, Enjoy.
Also SEE- How to Write an SEO Optimized Blog Post?
Don't Forget to Share this article with your friends and Bookmark it at all Social Media Sites. Till then, Please Comment below and do what ever you want to do man!