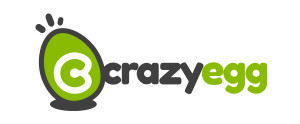 In this Post, I am going to mention some top 5 alternatives to CrazyEgg or Similar Sites like CrazyEgg to get your free heatmap and track user's clicks behavior etc. Well Crazy Egg is an great online tool developed by Neil Patel of QuickSprout to easily discover and analyze what visitors are doing when they are on your website or blog. It simply provides visual analytics and different heatmap reports etc. Thus people are searching for the heatmapping analytic service like Crazy Egg, I mean best alternative to Crazy Egg. As far as Google Analytics is considered, it only tells from where you are getting the traffic but Crazy Egg tells you the elements of a page your visitors are clicking on. So its a awesome tool to try to improve your website and increase conversions + revenue. Mainly this heatmap tool or site is used to optimize landing pages, signup forms, shopping carts and checking clicks on ads etc. So here are some of the top similar sites like CrazyEgg or best alternatives to watch upon in 2014. So First lets know what is CrazyEgg in more details (features, pricing etc) and then What are alternatives of crazy egg?
What is Crazy Egg?
As discussed above, Crazy Egg is an great heatmap tool designed to tell elements of a page your visitors are clicking on. Actually It gives you a picture of where people clicked on your site. This lets you see what's hot and what's not, so you can make changes that increase conversions. Along with it, CrazyEgg comes with 2 other features like-
ScrollMap: The scrollmap shows how far down the page people are scrolling and helps determine where visitors abandon the page.
Confetti: Now you will be able to distinguish all the clicks you get on your site segmented by referral sources, search terms & many more.
So what are waiting for, just make an account there for free (14 days trial), grab the code and put on your site to track clicks and much more. NO worries, It wont slow your site's loading time. Well If you want to go PRO, pay $99/month and enjoy…
5 Best Alternatives to Crazy Egg
As per Wikipedia, ClickTale is an Israeli Internet company launched in 2006, that provides customer experience analytics and web analytics services. It comes with 2 features like
Heatmap Analytics: Reveal how customers and target segments view, scroll, move and click differently.
Session Playback: View on-demand session playbacks for individual customers. Now See how they interact with your site or more.
Well Reinvigorate comes with Live Visitor Tracking i.e Who's on your site? What are they doing? Find out in Real-time, not the next day. Now with their heat map technology, See where visitors click the most. Correct dead free spots and improve your website's traffic flow and conversions.
This is another great crazyegg alternative, With Lucky Orange, you can Watch Mouse Movements, Real Time Visitor Map, Heat Maps and Visitor Polls etc. So its time to do integration of LO code and See How your Visitors Actually use your Website. They comes with 7 days trial pack to test free of cost.
Well Clicky Web Analytics enables bloggers and small website owners to get insights and live information about their online visitors by tracking user behavior and clicks. Clicky also lets you to view heatmaps for individual visitor sessions, including segmentation etc. So everything will be in real time and up to date.
Well ClickHeat is a visual heatmap of clicks on a HTML page, showing hot and cold click zones etc. Its a instant heat pack tool or instant heating on the go. Thus effective, 100% safe & easy-to-use! This is considered as the best OpenSource software in this field.
Conclusion:
Liked my collection on top 5 best alternatives of CrazyEgg.Com, Give it a try and then please share it on Facebook and your Google plus accounts to spread the love. Also Note me If I missed anyone which proved to be a great Crazy Egg alternative in the Comments. Till then Happy Blogging and Keep Visiting!
Incoming search terms: