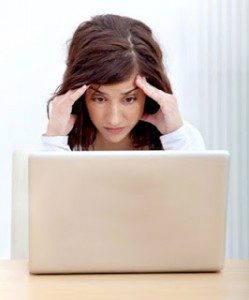 Hello Friends! Hope you all are enjoying your day. Now I am here with a very interesting topic. This article is very useful for new bloggers. In this article you can learn some things that people will hate in a website. People do many mistakes in their websites and these mistakes decrease lots of visitors from there website. In this article you can learn many mistakes that are common and people do them mostly. Now lets concentrate on the article more. Hope you all will like this article.
4 Things That people Hate about a Website or Blog:
1. Bad Looks And Themes
The first thing that most of the people hate about a website is a bad look of. The websites having very unattractive and awful looks always have very less rate of visitors. The first thing that people noticed in a website is its theme and looks of pages. If these things are not good in your site and you are thinking that without these things you can attract lot's of the visitors towards your site then you are wrong my friend because the first impression is the last impression and the theme and looks of a website is the first impression.
2. A Slow Website
The second thing that people always hate in a website is slow because nobody likes to wait for long minutes. When an article or something else on a website takes long time to open, many visitors lose there interest. Maximum people never likes to wait for more than 5 to 6 seconds for an article or something else because of the nature of the Internet, the "5 second rule". Always try to keep the combined file size of
HTML
, Images etc under 30 to 35 kilobytes.
3. Meaningless and Waste Content
Always write meaningful and useful articles on your website because if you will write meaningless
articles
people never likes to visit on your website and this is a great loss for your website and for you. Always try to write unique and original content and never post copied content on your website.
4. Too Much Advertisements
I know that
advertisements
are very very important for a website and without them it is very difficult to make a website successful but excess of everything is bad. Too much of animated, text and picture advertisements really irritates a person because these advertisements keep on encouraging people to click on them and these advertisements can decrease the interest of the visitors from a interesting post of your website. Too much of advertisements also decrease the
speed of a website
.
I will glad to see your comments and likes. Enjoy..
Incoming search terms: