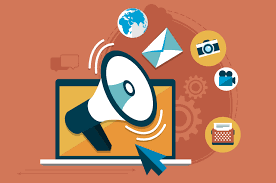 Have you ever taken a hard look at the things you need to do to promote your blog more effectively? You've probably told your friends and family about it but you're still waiting to explode onto the scene. When it comes to useful tools to promote your blog promote your blog you have a more than a handful of high-quality ones to choose from, but you're likely to experience the most success if you use a combination of your favorite ones. So, we've consulted with many of the most successful bloggers most successful bloggers from all over the world to come up with this list of the 10 most useful tools you can use to promote your blog.
10 Useful Tools in Promotion Your Blog 2017
1. Utilize External Tools to Increase Visibility
The first step in promoting your blog is to come to terms that most online blog formats aren't equipped with high-impact marketing tools. And if you are trying to make money online by selling a product selling a product or service or by gaining ad revenue you  aren't going to get very far with just the tools you have available from the start. SEO is extremely important for blogging and you're going to need all the help you can get.
2. Generate Interest Using Curated Content
Great blogs are all about providing value and a lot can be done by promoting material that isn't yours but reposted from other relevant and interesting sites. A free application you should try is Start a Fire which allows you to share your own links on the shared content. It works excellent with social media management tools like Buffer, Hubspot, Hootsuite, and Edgar.
3. Create Eye-Catching Email with AWeber
AWeber is a great online resource that allows you to build appealing and eye-catching emals with HTML and plain-text editors in just a few minutes with its easy-to-use drag and drop function. You can copy images, videos, and buttons with just a few clicks. Emails can inform your followers of new content and quickly by forwarded to others that subscribe.
4. Use Mailchimp to Track Segmented Messages
MailChimp is another email marketing tool that allows you to reach customers and followers with the click of a few buttons. It currently boasts over 15 million customers everybody from small e-commerce to big online retailers. It easily connects to Facebook advertising so that you can find new blog subscribers and reconnect with others you may have lost along the way.
5. Build Prospect Lists with BuzzStream
BuzzStream is a great tool for speeding up the research process. You can easily build and navigate prospect  lists, add contacts to your unique marketing campaign, and automatically gather website and social metrics so that you always know the impact your blog is having on the web community and ideas for generating more income.
6. Use Twitter and BuzzBundle for Research
Believe it or not both Twitter and BuzzBundle are online social media platforms that can still generate a lot of traffic for your blog. You can easily notify your followers of all of your recent blog posts as well as share other material that they might find useful and interesting. Combine these tools with Tweetdeck or Hootsuite and you can pre-schedule your updates and track open rates.
7. Let Moz and Google Analytics Work for You
Both Moz and Google Analytics are excellent apps for analyzing how your blog posts are doing in terms in ranking, social media, sharing, and more. Both are one-stop shops for all of your SEO needs and can easily be installed to any web explorer, open site explorer, or your desktop. Google Analytics also has recently featured Surveys 360 Suite that additionally lets you target specific users and zip codes.
8. Utilize a Social Media Management Tool
Buffer, Hootsuite, Hubspot, and Edgar all have one thing in common – they are all excellent easy-to-use tools for social media management. For any writer trying to make money by blogging, these tools will free up a lot of time and afford the opportunity to focus energies elsewhere. Schedule your posts for peak times and track open rates to know which material does the best.
9. Make It Easy to Share Your Material with Others
SumoMe is a simple on-site plugin that allows you to create share buttons for all of your written content. A free versions comes with just about everything you will need to add welcome mats, scroll boxes, contact forms, and heat maps so that anyone who reads your content can share it to friends, family, co-workers or anybody with just a click of a button. The more material that is shared the more viral traffic goes back to your blog site.
10. Use Viral Content Bee to Make Content Viral
Chances are most of your followers aren't so-called influencers in social media. But Viral Content Bee can ensure your content gets in the face of those who are. With this online tool you get highly-effective advertising that drives results by retweeting your material to people who share your thoughts and helps you build a following by making you a sort of authority.
Try some of the tools above to build an online presence and generate a tone of traffic for your blog – this includes organic searches, social and referral traffic. Don't let your web presence die before you've had a chance to realize its full potential. Take the first steps and earn the readership you deserve.
BIO
Bria Pierce is a blogger and content editor. She writes articles on personal development, writing tips, and education. Bria earned her Bachelor's in Theoretical Linguistics from The University of Toronto. Visit her website https://123writings.com/ or follow her on twitter.