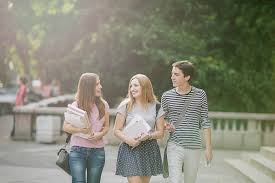 "Free time is not opulence; it is danger," says US-born preacher, Richard Slavin, better known worldwide as Radhanth Swami. Most youngsters are inclined to spend free time on entertainment. A few utilize it healthier activities such as sports while others spend time by reading books.
Unfortunately, most students while away free time in ungainly activities that includes excessive sleeping, gossip, watching TV, playing games on computers and smart-phones or even on vices such as alcohol and narcotics. This amply proves free time can be dangerous.
Why Work?
As cost of higher education continues to rise funds from traditional college savings plans taken by parents for their kids can prove inadequate. In several cases, parents alone are unable to bridge the divide between college fees and living expenses of their kids. In such situations, every college student can earn money doing simple jobs. Your work will earn you sufficient money to defray additional expenses on education, buy new stuff or simply save and invest for future.
Best Jobs for Students
Motley jobs are available for college students, some which pay US$ 15 or more per hour. Based upon your skills, you can opt for any of these 10 online jobs that pay college students more than US$ 15 per hour.
Online Transcriptionist
Hospitals, clinics and Emergency Medical Service (EMS) providers require digital summaries of conversations between a physician and patient, surgery teams, rescuers and first responders. Instead of maintaining all data, they require a short but precise summary of these conversations. You can transcribe such audio and video data to earn US$ 15 or more per hour.
Social Media Manager
A college student, working with a company as social media manager pays well. The job entails posting the company's content on various platforms including Facebook and Twitter, answering comments, noting feedback from clients and passing it onwards to concerned departments. With excellent interpersonal skills, you can work at this job for college students and pays more than US$ 15 per hour.
Online Translator
This is a great job for foreign students as well as those who possess expert level fluency in some regional language like Spanish, Mandarin Chinese (Putonghua), French, Arabic, Hindi and German, among others. A lot of companies hold video conferencing with business associates abroad. You can provide online, real-time translation during these conferences. Additionally, you can translate documents online from English to a foreign language and other way round. This job can sometimes fetch you as high as US$ 50 per hour.
Online Tutor
Everyone possesses some inherent skill at which they excel. Regardless whether you are an expert in some subject, sport or hobby, working as online tutor can earn you at least US$ 15 per hour. You can teach these subjects to juniors or your peers. Online sports and hobby tutoring also attracts large number of youngsters.
Micro Assistance
Micro Assistants provide a variety of services online. They include proof reading stories, news articles, advertisements and other content for grammatical, spelling and punctuation errors for correction. Other micro assistance jobs include compiling list of attendees who have confirmed participation at a large event like international expo or seminar. Micro Assistants can make at least US$ 20 per hour, depending on nature of work and location.
Online Data Entry
Those lucky may find this online job at their college or university. However these online jobs are very easy to find nowadays. Payment is commensurate with your typing speed and accuracy. Data entry means filling forms online from data provided on paper or setting it in the right format. Sometimes, it involves typing sections of a book or an article for publication online. This work pays at least US$ 15 per hour.
Online Security
Watching security cameras from distant locations on your computer for a few hours a day can fetch you as much as US$ 25 per hour. This service is required by security companies who provide CCTV surveillance at housing complexes and other low-risk locations. Your job is to keep an eye on happenings and alert cops or those responsible for the security, should such need arise. This is a great job for students who love snoop.
Virtual Assistant
Virtual Assistant's job is something like that of a personal secretary. Only, you would be working online instead of an office. As virtual assistant, you will handle all e-mails of your customer, provide appropriate responses or forward them to concerned departments. Other tasks include sharing various social media posts, posting content on Facebook, Twitter, LinkedIn and other platforms.
Freelance Writer
Dozens of websites in the US and elsewhere post adverts for freelance writers who can provide short or long content on a host of issues. Rather than paying per hour, you will be compensated for the number of words you write. Anyone with average typing speed can easily earn between US$ 15 to US$ 50 per hour since some content is very basic and does not require any research or knowledge.
Video Editor
If you love watching YouTube videos, the role of a video editor can suit well. This work pays as high as US$ 60 per hour, provided you are proficient and quick. The job involves watching videos and editing them appropriately. Editing software will generally be provided free by your employer. Adding sub-titles in another language to videos and blanking out inappropriate content earns you more.
In Conclusion
A lot of these online jobs do not entail investment on your behalf. All you require is a good computer and reliable Internet connection. Additionally, some of these jobs can also be done over a good smart-phone.
Working while at college or university also helps you acquire skills that are handy as you grow in life and career. They help you identify your interests. Your levels of confidence and self worth increase as you increasingly become financially independent.
Earning as college student can also help you go for higher studies and courses that may not be covered by an education plan or affordable to parents.  Saving and investing the money you earn helps secure a better future. Also, you can buy stuff that makes your peers turn green with envy.