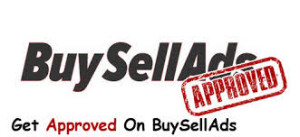 I think all of you know BuySellAds for a long time, its the best program ever to monetize your site or blog with direct selling of advertisement. So today I will share some Instant Approval tips and tricks for your site to get approved with BuySellAds.Com. Its a fact that BSA has lots of advertisers online who are continuously looking to advertise on popular blogs. But the problem is that BuySellAds has some minimum qualifications to go though to approve your site and hence they are tough. Therefore its better to build traffic, readership and social media exposure before applying to it. Anyways lets know some great 10 BSA Approved tips at below.
Top 10 Instant BuySellAds Approval tips for your site to get accepted
1. Build Traffic and Gain Unique Visitors First
2. Make an large active community of your blog with great readership
3. Have Social Media Exposure and Likes – Must!
4. Get good Google PageRank and Alexa rank too before applying
5. Must have Beautiful Template design with less loading time
6. Try to be on a Top Level Domain i.e .COM or .NET not free subdomains like .blogspot, .tk etc
7. Write fresh and quality posts on your blog, not to copy
8. Non-English websites or blogs are not accepted
9. Your site must be getting 100K impressions per month or more
10. You domain/site must be of 6 months at least.
Best of Luck!
Also Read- How to Get Approved for BuySellAds PRO?
Conclusion:
So I hope this tips/tricks will definitely approve your BuySellAds Account and try to work hard over this and once you feel that you have done your job then apply for Buy Sell Ads . One day you will get huge success, If you got disapproved then don't get frustrated just make some changes and apply again. Note– Never Give Up and Quit.