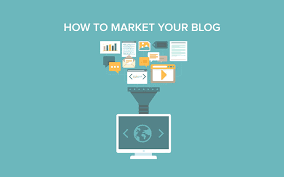 A blog is more than just a personal journey of discovery. It is a business tool for promoting your brand. But just as the experts predicted, the build it and they'll come approach failed to sustain momentum in the marketing world. Nowadays, if you want your blog to grow by leaps and bounds, not just incremental gains, you need to think big.
With over a 100 million blogs being tracked by search engines worldwide, compelling and creative ways to drive traffic and building awareness goes beyond just penning catchy phrases or interesting taglines. Invest in your blog and it will give you the returns you are looking for.
For effective blog management and marketing, being available through other media like telephone calls can easily be facilitated through call answering services like AU eVoice which provide round-the-clock connectivity and toll-free numbers. If you want to build and market the blog, sweat equity will pay off through these innovative methods (after all, genius is 99 percent perspiration!):
10 Compelling  and Creative Ways to Market Your Blog
#1 Spreading the Word
The more blogs or sites a blogger writes for, the greater are the possibilities of interlinking and backlinks. Building quality backlinks is a reliable SEO strategy which leading search engines like Google reward you for. The more interlinking thrives, the more your blog gains in terms of audience share. Align promotional efforts by putting together an integrated blog marketing plan and watch the ROI and profits come rolling in.
#2 Commenting on Other Sites
Blogs or websites across cyberspace provide an enduring online platform for boosting your market visibility and your own blog. Comment on other blogs and enter your blog URL and name and you can attract a massive share of the traffic coming to these popular sites. It also has value for SEO and link building When interesting and important comments on other blogs can be traced back to your own, newcomers will follow the link back to the blog to learn more about its USP.
#3 Try Message Boards and Online Forums
Joining forums associated with blog topics is the key to becoming a center of attention for like-minded readers and attracting them to your blog. Be sure to stay updated on how to approach the readers through sites like Blogging Ways, because staying relevant is the key to success. You need to be visible on online forums for not just grabbing eyeballs, but sustaining traffic to your site.
#4 Link To Other Sites
Links to other sites on your blog post is a form of content and link building essential to marketing your blog. Content curation is pretty big these days, so be sure to link back to a blog or post you find interesting and enjoy reading. Trackback features, pingbacks, and mentions on other blogs can boost your outreach and lead to wider exposure.
#5 Be Social
Social media is an amazing means of leveraging promotional opportunities online. Sites like Facebook, Twitter, and LinkedIn or visual content sites like Pinterest and Instagram are a positive hit. By building your page or account on these social messaging, social media, and social networking sites, you can leverage wider audience reach for free and build better SEO strategies through comments, shares and likes to guide you about what clicks with your audience (and what doesn't). Microblogging or social bookmarking sites like Delicious and Digg are also great places to submit your content and spread the word about your blog.
#6 Include Blog Links On Digital and Business Cards and Email Signatures
Including your blog URL just about everywhere is one of the best ways to promote your blog and market your brand. So, don't leave out blog URLs on email signatures, digital and business calling cards and think out of the box, if you want to harness the power of innovative promotion.
#7 Participate in a Blog Fest
A blog carnival or festival is a right way to get your blog across to a bigger audience. The more the blog topics and themes echo that of the carnival, the more of a relevant audience you will be able to tap.
#8 Create a Blogging Contest
Blog contests or asking for guest posts is a wonderful way to attract experts and authority leaders to your blog. The important part is that getting the word out about the contest also promotes your brand (and blog) online.
#9 Be a Guest Blogger
Apart from asking for guest posts, be a guest blogger on diverse sites related to your theme and niche. This will attract traffic and get links to your blog online. It will also provide a popular medium for presenting your thoughts and your writing before those who matter the most.
#10 Post Blog Content Frequently
Last but not the least, always make sure you post original and unique content frequently. The best way to put off an audience is to present content infrequently. The whole point of a blog is that it is a rich, ever-growing cornucopia of ideas. Lose out on the dynamic part and you'll miss out on the readers too.
Final Word:
Finally, the most important secret to marketing your own blog is to believe in your brand and build it. Featuring thought leaders and celebs, writing creative and original content and bring new ideas to people is the key to creating a blog everyone wants to read. It is also the secret to marketing your blog effectively.